Billion-dollar development breaks ground at Colwood Corners
Jan 24 2012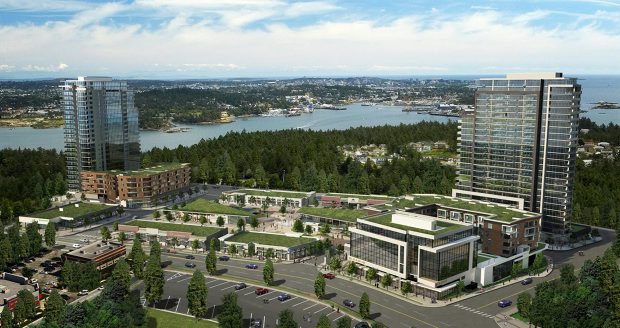 An artist's rendering of the development at the Colwood Corners site.
Photograph by:
Courtesy of League Financial Partners, .
Four silver-tinted shovels don't move a lot of dirt, but with the demolition of a few tired structures going on in the background, four shovels tossing around a few pounds of topsoil signalled the official start of construction of the Island's largest development.
The creation of the $1-billion Capital City Centre, to be built over nearly 14 acres at what was known as Colwood Corners, started Monday with League Financial Partners turning the soil on a project that will be built out over 20 years.
"It has been a long time in coming," said Adam Gant, CEO of League Financial, noting they started planning for the project in 2006.
The project is sweeping in scope with 12 residential highrise towers; four office towers; four-storey, wood-framed residential buildings with commercial at grade; two-storey townhomes, multi-storey office buildings and a public plaza with various amenities.
And while there will be plenty of activity in the area — at the peak of construction there will be 500 construction jobs on site — the payoff of seeing the first buildings coming out of the ground is unlikely to happen until the fall after excavation for underground parking has been completed.
Gant said that day will likely be the most gratifying.
The project will be built in a number of phases over the next two decades. The phased-in approach is designed to allow League Financial to remain flexible and respond to market conditions over the duration of the project.
"It allows us to mitigate market-related risks, ride out economic cycles and fine-tune development plans for future phases," said Gant, noting they will lead with commercial space to help drive demand in the area.
"And because of the way we have changed the phasing model, we can build any given building by itself. We have 'siloed' the parking and infrastructure needs of any building," he said. "That means we can respond, we can build office space, we can change the sizing of units — smaller, single-bedrooms or larger units — depending on what the market is looking for."
The other advantage is maintaining construction activity.
"We're going to keep chugging along so every time we finish a building, we launch a new one. That way, we're not going to oversupply the market," he said.
The first phase, now underway, will cost $250 million and be built out over the next five years.
It will be developed in three steps, the first being a four-storey residential building on top of a 35,000-square-foot London Drugs. There are also three other retail buildings and a six-storey office tower.
The second step of that phase is a 26-storey residential tower that will claim the title of tallest building on the Island, and the final step will be second 26-storey highrise, a four-storey residential building and commercial space for a 33,000-square-foot grocery store and other retailers.
Colwood Mayor Carol Hamilton said the foundations for the development can't come above grade fast enough.
"This day has been more than five years in the planning," Hamilton said. "This is one of the fastest-growing regions in B.C. and this development is a fundamental building block in our award-winning Official Community Plan. It creates a revitalized core to our community [and] brings in mixed use, residential and community development and associated jobs."
Hamilton said it also lets the city catch up a little.
"Colwood has been the centre, and we kind of got lost in the latest and most recent of buildouts," she said with a nod to neighbours in Langford and View Royal that have seen significant development over the last decade. "Now as things pick back up, we can do that. I really see Colwood being another city centre in the West Shore."
It will certainly add some life to what has become a slightly dated area, added Dan Spinner, CEO of the West Shore Chamber of Commerce.
"I've heard them talk about 4,000 residents, not including the commercial and office people who will be here. There could be 5,000-6,000 people here a decade from now and that's really exciting for the city," he said. "This helps the tax base of the City of Colwood, it helps the residents and finances of the city.
"And it brings an energy and dynamism that Colwood Corners really needs."
But with that influx of people, there is the question of adequate infrastructure to deal with it.
Spinner said it's a bit of a Catch-22.
"The tax base increases with [development like this]. And as Langford has proven [after development], then you can start to make improvements and deal with it," he said. "At least, now there's $1 billion being invested in the City of Colwood and that will give them a lot of breathing room."
Spinner noted the big infrastructure question involves transportation.
"If I was League, I would be working really hard on [light-rapid transit] or at least on the option of the E&N [railway] in the meantime," he said, noting LRT is probably a tough sell when it carries a $1-billion price tag amid economic uncertainty.
The project is located on the approved alignment of a future rapid transit system.
Gant said Capital City Centre will answer both short and long-term needs of the area.
"Colwood and Langford are showing projections of six per cent growth, and a lot of the growth in the region is being channelled here," he said. "And we have based our interest in this project off the longer-term trends.
"Obviously, we started in a period of economic contraction, but we are still forecasting off the long term, and Victoria has had excellent long-term appreciation of real estate prices and still has good in-migration."
League already has landed anchor commercial tenants London Drugs, Royal Bank an Coast Capital Savings. It is in talks with national grocery retailers and other retail outlets.
The first office tenant will be League itself, which will take 25,000 square feet in the first office building in Phase One.
The first phase of the residential development, a four-storey building, sold out its pre-sales last fall and will put the rest on the market closer to the building's completion. They are priced starting in the low $200,000-range. Prices for the 26-storey tower are expected to be released this summer.
aduffy@timescolonist.com
We thought you might also be interested in..