High winds play havoc across Greater Victoria
Jan 24 2012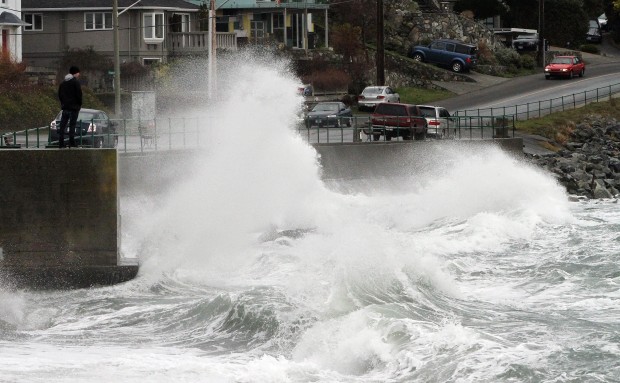 Conor McDiarmid stands as a wave crashes around him at a McNeill Bay lookout in Oak Bay during the windstorm on Sunday, Jan. 22, 2012.
Photograph by:
Adrian Lam, timescolonist.com
We'd love to see your weather photos. Please send them to web@timescolonist.com
Capital region residents spent much of Monday recovering from the strong windstorm that whipped through the community all day Sunday, creating overnight waits for ferry and float plane passengers looking to get to and from Vancouver Island.
Southeast winds gusted up to 110 km/h Sunday in many parts of Greater Victoria, with downed power lines temporarily killing electricity to more than 37,000 customers throughout the day, according to B.C. Hydro estimates.
B.C. Ferries cancelled a total of 130 sailings and Harbour Air cancelled all its flights for the day due to the severe weather. The ferry corporation cancelled 30 sailings on the three main routes between Tsawwassen-Departure Bay, Tsawwassen-Swartz Bay and Horseshoe Bay-Departure Bay.
Vehicles were lined up on the Pat Bay Highway from the Swartz Bay terminal to the Cedar Grove Marina, where staff were eventually turning people away because of the back log.
Early Sunday evening, a crowd of passengers was hanging around outside the administration office, asking for updates and estimates on when the next ferry would sail.
Many of them were part of the 100 adult amateur hockey teams visiting the capital region for the Canadian Amateur Recreational Hockey Association's Pacific Cup tournament.
"What can you do, though?" asked Dean Davies, a hockey player from Mission. "I think people are making a big deal out of nothing. It's the weather. There's nothing you can do."
B.C. Ferries finally managed to restore sailings Sunday between Swartz Bay and Tsawwassen at 8 p.m.
An additional round-trip sailing was added Monday morning, and staff expected to have caught up on the backlog of passengers by Monday night.
Power outages for the entire Island peaked about 26,000 customers as the winds moved north, knocking out electricity in communities like Duncan, Nanaimo, Port Alberni and Campbell River.
Crews worked to restore the electricity all day Sunday and Monday. But a few places, including Quadra Island, were not likely to regain power until today, according to Ted Olynyk, spokesman for B.C. Hydro.
"That's a pretty significant storm," he said. "It seemed to hit up and down the whole Island. Usually, it's confined to one area."
Environment Canada reported that an intense low-pressure centre generated strong winds gusting 100 kilometres an hour over south coast regions. Winds of up to 110 km/h were reported over west Vancouver Island and exposed coastal sections of the central and northern parts of the Island.
It wasn't all bad. Pedestrians enjoyed playing in the ocean spray along parts of Beach Drive in Oak Bay as waves crashed into the shore, flinging water across the road.
The wind had a minor impact at Victoria International Airport with two Air Canada Express flights cancelled Sunday morning, in addition to a few delays.
dspalding@timescolonist.com
We thought you might also be interested in..