Saltspring sailor "loved the ocean," daughter says
Jan 25 2012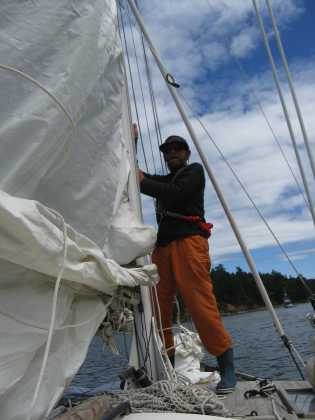 Richard (Rick) Legallou, 62, was found floating in Ganges Harbour amid high seas and gusting winds on Sunday Jan. 22, 2012.
Photograph by:
Family photo, .
Wednesday in Ganges marina, Sunita Legallou expects to step aboard the boat that her dad built in his backyard — the boat that divided his family and that played a part in her father's death.
"He loved the ocean and he loved being outside and the certainly brought him a lot of peace to be there," said Sunita Legallou, 27.
The environmental scientist was in transit Tuesday with the intention of visiting the boat Wednesday, according to family.
On Sunday, the body of her father, Richard (Rick) Legallou, 62, was found floating in Ganges Harbour amid high seas and gusting winds.
The RCMP has blamed the storm for what happened.
The coast guard received a report of a vessel adrift at 11:47 a.m. Sunday. The Joint Rescue Co-ordination Centre in Victoria put out a call to vessels in the area.
Eagle Eye Marine Services, a southern Gulf Islands marine towing and salvage firm, was first on the scene with its 35-foot tug, said Eagle Eye owner Nick Boychuk.
He spotted Legallou's 24-foot double-ended sailboat, named Sevens, between two private docks. It had apparently broken free of its mooring buoy and dragged its anchor from the open water in the harbour to shore.
Boychuk also spotted Legallou's body. Legallou had not been wearing a lifejacket.
Boychuk and his wife, Celine, a boat captain, with the help of off-duty Saltspring Sgt. George Jenkins, and Terry Dow, pulled Legallou onto the government dock. Celine Boychuk performed chest compressions until paramedics arrived.
Jenkins said he had never seen winds like that in Ganges Harbour. "It felt like we'd be blown off the dock."
The sailboat's dinghy was overturned, but still tied to the sailboat.
Police and the coroner's office are investigating how Legallou came to be in the water.
Legallou was often seen in his dinghy rowing to and from shore — sometimes in bad storms and often without a lifejacket, Boychuk said.
The Ganges-based coastguard ship Cape Naden, B.C. Ambulance Service and Saltspring Fire-Rescue all assisted in attempts to revive Legallou.
He was brought by ambulance to Lady Minto Gulf Islands Hospital on Saltspring, but he could not be saved.
"We suspect it was a drowning," Jenkins said. An autopsy will be conducted.
Legallou's family suspects his death was the result of Sunday's storm that brought winds gusting from 65 to 85 kilometres an hour.
Heavy winds caused up to $50,000 damage to the docks at Ganges Marina. Several boats broke free of their moorings and one sank off Pender Island.
Boychuk said the call to assist Legallou was his fourth call of the morning — the 11th call for he and his competitor.
"It's pretty unexpected, it was quite the accident," Sunita said. "No one can really prepare for this kind of thing so, of course, it's hard," she said of her dad's death.
Legallou is also survived by his sister, Barb Paulhus, of Saskatchewan.
More than 25 years ago, he began building a boat in his backyard.
He took the boat and his family — his wife and toddler — to Saltspring.
"It was about 23 years ago that we lived in Saltspring for about a year," Sunita Legallou said.
After a year or so on the small, cramped boat, Legallou's wife decided it was no place to raise a young child, then 30 months. She headed back to Calgary. He didn't. They divorced.
"Rick's been on that boat full-time pretty much since then," Sunita said.
His ex-wife remarried and the couple raised Sunita.
She would visit with her biological father at least once a year, said family.
On Wednesday she will head back to the boat in Ganges Marina.
Although the boat was so pivotal in her father's life and death, she said it is not hard to see it or return to Ganges Harbour because "he loved the Island".
Legallou has been described by those who knew him as reserved and quiet, maybe reclusive.
"It's always hard to lose a parent, no one wants to be in this position" but he was where he wanted to be, doing what he loved, said Sunita.
A service will be held for Legallou within "a week or so in Saltspring", she said.
ceharnett@timescolonist.com
We thought you might also be interested in..