Colwood and View Royal opt for fire dispatch service from Saanich
Jan 25 2012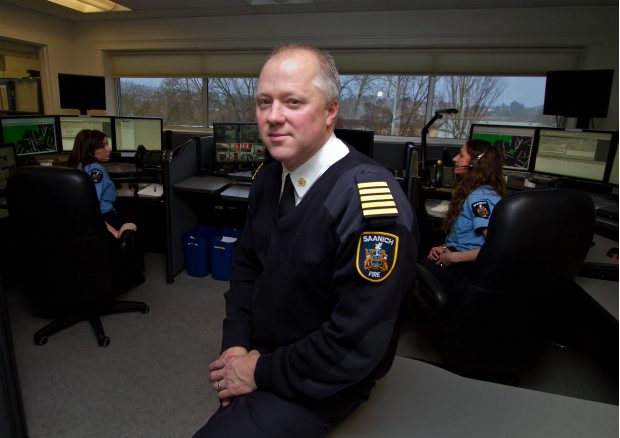 Saanich Fire Chief Mike Burgess in Saanich's dispatch centre with dispatchers Lindsay Harper, left, and Jennifer Eely.
Photograph by:
Darren Stone, timescolonist.com
Saanich expanded its fire dispatch service into the West Shore this week, sparking once again talks of a unified communications system for Greater Victoria.
The city's fire department will soon take calls from residents in eight of 13 municipalities in the Capital Regional District after picking up a five-year joint contract from Colwood and View Royal.
Fire chiefs in both communities were frustrated with the service provided by the Langford fire department, citing long histories of dissatisfaction in reports to their respective councils.
Langford provides dispatch services on behalf of the CRD for 18 fire departments in the West Shore, on the west coast of Vancouver Island and on the Gulf Islands. That number will drop to 16 when Colwood and View Royal move to Saanich's service, likely in May.
Colwood will pay $76,332 for dispatch services from Saanich, compared with $63,063 paid in 2011 to Langford. View Royal will see its annual fee increase from $36,940 paid in 2011 to $44,942.
The additional costs are appropriate for the improved level of service, View Royal fire chief Paul Hurst said.
Recent upgrades to Saanich's public safety building have given it bragging rights for having the best dispatch facility in the region, according to a recent CRD report.
Saanich built a $600,000, "purpose-built" communications centre in 2008, which should withstand a major earthquake and is backed up by the emergency communications system, E-Comm, on the Lower Mainland, Saanich chief Mike Burgess said.
The fire trucks are also equipped with mobile work stations, which provide en route firefighters with important details about a building, including its height and its proximity to a fire hydrant. Dispatchers can always see where the fire trucks are thanks to the GPS system.
A review of fire dispatch services completed for the CRD in April recommended reducing the region's three dispatch centres — Victoria, Saanich and Langford — to "two or possibly a single provider."
The report said the three centres currently do not have the ability to share their services should one fail.
They "operate using different technologies and, at the present time, lack an integrated fail-over or disaster-recovery model for all centres within the region," the report states.
An assessment report presented to Victoria in October said the Victoria Fire Department's main hall on Yates Street, where the dispatch centre is located, could crumble in the event of a major earthquake.
Burgess said "it just makes good sense" for all departments in the region to be using the same dispatch technology.
"It's a cost-effective model for departments who want current, state-of-the-art technology for affordable prices," Burgess said.
Saanich Mayor Frank Leonard encouraged his neighbouring communities to explore his city's system. He called his invitation a "soft sell," recognizing people's sensitivities about regionalization.
Langford is in the middle of reviewing its dispatch service through a sub-committee made up of fire chiefs within its network.
Langford fire chief Bob Beckett wants to create a parallel to the system in Saanich, which, he said, would give the region a much-needed backup.
"We're looking to duplicate the technology in Saanich so, if something went wrong, they could come to our dispatch, and vice versa," he said.
Victoria Fire is also looking at making major overhauls to its dispatch equipment, which Fire Chief Jeff Lambert admitted is "antiquated."
Lambert said he is looking at all the dispatch options to decide whether Victoria should fold into Saanich's communications centre or upgrade its own equipment.
Lambert agrees there is a crucial need for dispatch centres that operate seamlessly on the same system.
"Inter-operability is huge," Lambert said.
"Any major tragedy we've seen in emergency services usually can be attributed to a lack of communications."
dspalding@timescolonist.com
kderosa@timescolonist.com
We thought you might also be interested in..