Two brothers killed in house fire on Nanoose reserve
Jan 26 2012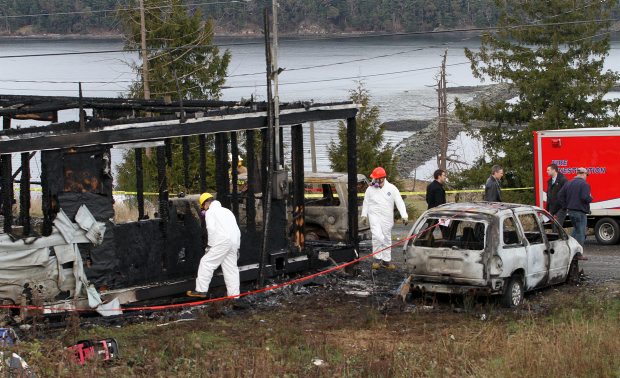 RCMP at the scene of the fire at the Snaw'Naw'As, Nanoose First Nations, reserve.
Photograph by:
Adrian Lam, timescolonist.com
The two children killed in a tragic early morning house fire on the small Snaw'Naw'As, Nanoose First Nations, reserve have been identified as brothers staying with family friends.
Devon, 7, and Jordan Drake, 10, are dead, according to family, despite the homeowner's attempt to re-enter the raging blaze to rescue them.
The fire was so hot it melted the siding off neighbouring houses on either side. All that remains standing is a partial back wall of the house amid blackened rubble.
Parents James Drake and Laura Edwards were not with the boys when the flames broke out about 5 a.m.. The couple's sons were having a sleepover at a nearby friends house owned by Anitsa Hawkins and Kyle Evans.
"They said they were scared by the storm and wanted to sleep at their friends," said Sheena Edwards, whom the deceased boys endearingly called aunty.
The homeowners and their two sons, Kiodi, 4, and William, 9, escaped the blaze. B.C. ambulances transported them to Nanaimo Regional General Hospital where they are being treated for smoke inhalation.
Anitsa Hawkins and Laura Edwards, the mother of the deceased boys, were apparently very close, as were their children whom grew up and played together.
Nanaimo RCMP First Nations police officers as well as Nanaimo victim services workers are counselling family and local band members.
At 5:05 a.m., police received repeated 911 calls from neighbours about a house fire on the reserve off Quil-xe'mait Road, just past Lantzville, said RCMP spokesman Const. Gary O'Brien.
Nearby volunteer Lantzville Fire Department responded and were on scene at 5:12 a.m. this morning, O'Brien said.
Neighbour Dorothy Bob said the reserve's electricity went out last night around 9:30 p.m. because of a tree that had fallen in Tuesday night's windstorm and landed across a Hydro wire.
That has led neighbours to speculate candles may have contributed to the blaze.
B.C. Hydro spokesman Ted Olynky confirmed that the power was out in the Nanoose area this morning, at the time of the blaze.
"I heard a knock on my door and it was my grandson who lives down the road," Bob said. "I opened the door and the whole thing was on fire. It just went up like a matchbox"
About 30 homes have been built in the community recently.
Bob questioned why a new home would ignite and be razed so quickly.
Neighbour Charles Peter said he woke up to an orange glow outside window and saw "the whole roof was engulfed in flames."
He was one of many who called 911 rushed out to see the raging fire.
Neighbour Annie Harris said the fire must have started at the front of house, because a piece of the back wall remains. Two vehicles parked beside the house are also charred shells.
The small Nanoose First Nations, located between Nanaimo and Parsksville, sits on 54 hectares and has a population of 210 Coast Salish people on the reserve and 60 off reserve. Highway 19A and a railway dissect the property.
Lantzville Fire Department was reached but did not want to comment on the fire at this time. Fire Chief Tom Whipps was still at the scene just before 11 a.m.
When police arrived at 5:23 a.m., the home was "fully engulfed," O'Brien said. Regarding the cause of the structure fire, "it's way too early to tell," he said.
Nanaimo RCMP serious crime unit, with the B.C fire marshall's office, is investigating. Fire investigators are combing through the charred remains this afternoon.
The Nanoose First Nations community has few elders, with the majority of the population is comprised of youth and people age 19-50 years old.
The reserve itself is home to creeks and streams. It also has a local campground, store, on-reserve nurse, a daycare and a youth group amongst other services and agencies, says the First Nations' website.
ceharnett@timescolonist.com
kderosa@timescolonist.com
We thought you might also be interested in..