Help sought for family that lost everything in fire
Jan 26 2012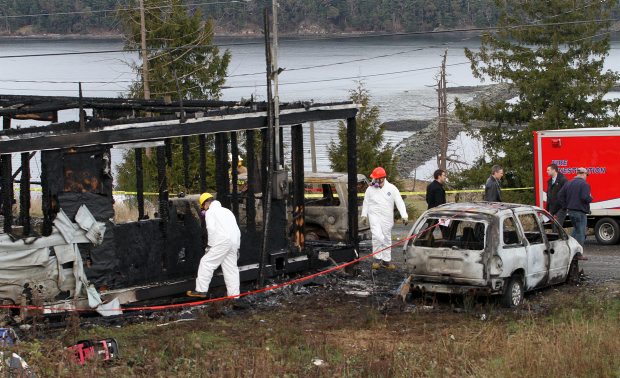 RCMP at the scene of the fire at the Snaw'Naw'As, Nanoose First Nations, reserve.
Photograph by:
Adrian Lam, timescolonist.com
In the wake of a fatal fire, the Nanoose First Nation is banding together to help the family that lost their sons and another family that lost their home.
Kyle Evans and Anitsa Hawkins lost everything after their home went up in flames around 5 a.m. Wednesday morning.
They managed to rescue their two sons but the two other boys who were staying at the house, Devon Drake, 6, and Jordan Drake, 9, perished in the fire.
The couple did not have home insurance and all their possessions, including their two cars, were destroyed by the fire. The band is accepting donations of clothing or other necessities at the Tsow-Tun Le Lum Society treatment centre located at 699 Capilano Rd. in Lantzville. The centre can be reached at 250-390-3123.
Community members have already begun donating money for the dead boys' parents, Lara Edwards and James Drake, to help them pay for the funeral.
Elizabeth Bob returned from Nanaimo Regional General Hospital Wednesday afternoon where she spoke briefly with Hawkins, who is her niece, and Evans.
She said Hawkins and her sons, Kiodi, 4, and William, 9, suffered mild smoke inhalation and Evans has burns on his hands and ears.
She said the displaced family will stay with Hawkins' father, who also lives on the reserve.
"The whole reserve is tight knit," she said.
Nanaimo RCMP First Nations police officers as well as Nanaimo victim services workers counselled family and band members Wednesday.
Sheena Edwards, a cousin of Lara Edwards, said Devon and Jordan were like siblings to her three-year-old daughter and seven-year-old son.
"Devon, he'd be playing and he'd say, 'Auntie,' and I'd say, 'What?' and he'd say, 'I love you.' "
Edwards said the boys attended school at Seaview Elementary and after school would often be found playing video games.
"When school started, their mom was trying to be firm and say no video games after school, and they'd often come to my house to play games," Edwards said.
She said the boys loved playing with her daughter.
"They'd come over and she had this bike and they'd double her around as long as she wanted. They'd paint her nails and put makeup on her. She'd call them big bro."
Devon and Jordan's loved ones gathered at the family home down the street and did not want to speak to the media. Bikes lay strewn next to the house and two men dismantled a trampoline in the front yard.
The small Nanoose First Nation, located between Nanaimo and Parksville, sits on 54 hectares overlooking the ocean. Highway 19A and a railway dissect the property.
The First Nation has a population of 210 people living on the reserve, and 60 off reserve. The community is a young one, with the majority of residents between the ages of 19 and 50.
kderosa@timescolonist.com
We thought you might also be interested in..