View Royal experts show how not to put out a grease fire
Jan 27 2012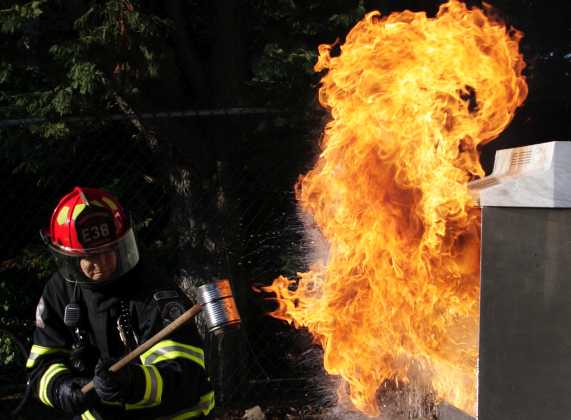 A fireball erupts after training officer Heath A. Bevan poured water on a grease fire.
Photograph by:
Lyle Stafford, timescolonist.com
It started out as a small flicker of flames in a pot, but the raging fireball that erupted after being doused with a cup of water was a sobering demonstration of what not to do when putting out a grease fire.
View Royal Fire staged a demonstration Thursday, after a kitchen fire destroyed a second-floor suite at 231 Helmcken Rd. Sunday night.
The mother and her young daughter escaped without injury. Fire prevention officer Rob Marshall said firefighters are all too familiar with grease fires that get out of hand because people instinctively douse the flames with water.
"As soon as you put water on it, it explodes," Marshall said.
The grease is so hot that it vaporizes the water, causing it to expand 1,700 times its size and sending hot flaming oil up into a fireball, Marshall explained.
The best thing to do is shut off the heat source, grab an oven mitt and put the lid of the pot, or even a baking sheet, over the pot to cut off the supply of oxygen, Marshall said.
You should leave the lid on for at least half an hour to ensure the fire is completely out.
kderosa@timescolonist.com
We thought you might also be interested in..