Northern Junk plan divides city council
Jan 27 2012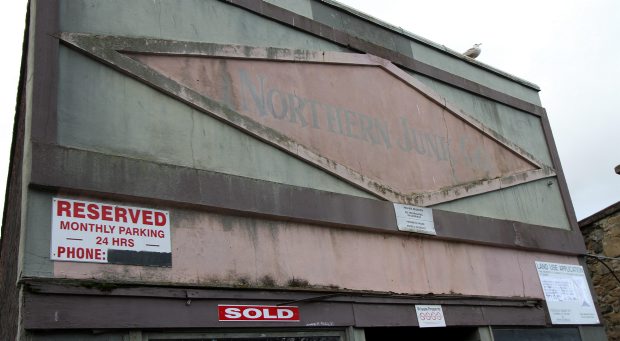 The Northern Junk property has been derelict for years.
Photograph by:
Bruce Stotesbury, timescolonist.com
A $25-million proposal to revamp the Northern Junk property at the foot of Johnson Street into a five-storey commercial-condominium project made a small step forward Thursday, but Victoria council was split on the move.
The proposal will be reviewed by the city's advisory design panel and the heritage advisory committee. The committee's recommendations and comments will be brought back to council for review and comment, likely in March. A third-party economic analysis, paid for by the developer, is to be made to judge whether the public amenities being offered in return for increased density are fair.
Reliance Properties Ltd. of Vancouver is proposing the waterfront development, which includes redevelopment of the long-derelict Wharf Street Northern Junk buildings. New construction would be wrapped around the heritage buildings on what is currently a city-owned boulevard and parking lot.
Reliance wants to build 56 residential units over street-level commercial. The plan calls for a waterfront public plaza with a stairway suitable for seating to provide access to the marina. A connection to the Victoria Harbour Pathway is also planned.
The two heritage buildings would be rehabilitated and connected by a glass atrium.
Councillors Pam Madoff, Shellie Gudgeon and Ben Isitt wanted to postpone dealing with the staff recommendation that the council move the proposal to the committees. The three said the developer should review the design and siting of the five-storey building, with an eye to making it a better fit with the Old Town. Madoff said what is built on the prominent site should "knit the city back together" in terms of design. She questioned whether a modern-looking, curved building does that. Gudgeon echoed Madoff's concern about moving too quickly with the proposal.
But motions to postpone dealing with the plan were voted down. Mayor Dean Fortin and councillors Geoff Young, Chris Coleman, Lisa Helps, Charlayne Thornton-Joe and Marianne Alto voted to move the proposal forward, saying it was the best way to get more information and analysis. kwestad@timescolonist.com
We thought you might also be interested in..