Juan de Fuca officials galvanize to battle 'stupid' DFO move
Jan 28 2012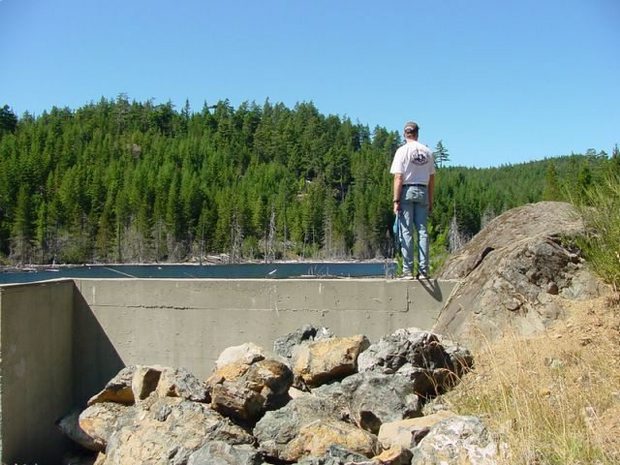 Glen Varney of Sooke Salmon Enhancement Society on top of the dam spillway over De Mamiel Creek looking to see how much water is in the reservoir.
Photograph by:
Supplied photo, Sooke Salmon Enhancement Society, timescolonist.com
One of the most productive coho salmon runs on southern Vancouver Island is likely to be wiped out by a Department of Fisheries and Oceans decision to destroy a dam that was built to conserve salmon.
It is not an easy decision, but because of budget constraints and liability fears, DFO is reviewing all its infrastructure and maintenance costs, said Adam Silverstein, DFO area manager for ecosystems management.
"The De Mamiel Creek dam is a particularly expensive piece of infrastructure," said Silverstein, who believes the coho run will survive, even if water dries up in summer.
The decision to decommission the dam has horrified Sooke Salmon Enhancement Society members, who have worked for decades to build up a coho run that, their records say, brings in between 2,500 and 5,000 spawners annually.
"We have been working on this since the early 1970s, just to bring up the number of fish," said society spokesman Glen Varney.
"If they do this, the whole upper reach of the creek will be devoid of life," he said.
The decision is being hammered by all levels of Juan de Fuca politicians.
Everyone works together when something stupid happens, said Juan de Fuca NDP MLA John Horgan, who, with regional director Mike Hicks and Esquimalt-Juan de Fuca NDP MP Randall Garrison, is appealing to DFO to reconsider.
"That's what is happening: something stupid," Horgan said.
Garrison believes DFO wants to rid itself of all dam liabilities; Silverstein could not say how many other dams in B.C. could be affected.
"I really think it comes down to some directive to get rid of all the dams and the liability - the fish be damned," Garrison said. "This is lawyers, rather than biologists, running DFO."
Hicks mused about how a federal agency charged with protecting wild fish could deliberately kill a coho run. "DFO has a legal and moral obligation to maintain the dam for the survival of the coho and trout," he said.
The Bill James Dam is on De Mamiel Creek, about 11 kilometres northwest of the mouth of the Sooke River, and water is regularly released during dry summer months, allowing salmon fry to survive.
Without that water release, the upper reaches of the creek, where coho spawn, will dry up, Varney said.
Silverstein, who admits concerns about liability have grown since the 2010 collapse of a privately owned dam near Oliver, said an engineering review of the De Mamiel dam is needed and that will cost more than $50,000.
Then there will be the costs of whatever upgrades are needed, Silverstein said. "We realize that this is not without some impact, but we simply don't have the dollars to continue to operate this facility in a safe way or in a way that complies with legal requirements," he said.
However, David Genn, an engineer who lives downstream from the dam, does not believe there is any risk, even if the dam broke, because the reservoir contains only 53,300 cubic metres of water and the nearest occupied dwelling is eight kilometres away.
"They are making up all sorts of nonsense to try and convince us they have to destroy the dam," he said.
Silverstein said DFO's studies shows the dam provides marginal benefits for fish because it does not store enough water. Also, fish numbers cannot be confirmed because DFO does not do a stock analysis on De Mamiel Creek, he said.
The dam fight has seen some bizarre incidents.
When society members found the control valve had been removed this fall, they assumed it was vandalism, so they replaced it, Varney said.
DFO staff then saw "the valve had been vandalized and replaced, so we re-removed it," Silverstein said.
DFO then contacted the society and told them decommissioning was underway, Varney said. "We saw DFO had come back and cut the valve and busted up the pipe."
jlavoie@timescolonist.com
We thought you might also be interested in..