Diesel spill sparks fears for Patricia Bay wildlife
Jan 28 2012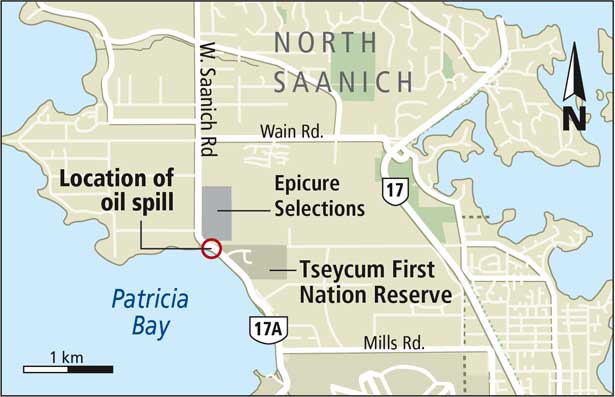 .
Photograph by:
., timescolonist.com
Biologists are watching closely to see if fish or wildlife have been affected by a spill of up to 800 litres of diesel oil from a leaking generator into a fast-moving drainage ditch that runs into Patricia Bay.
The leak came from a backup generator at Epicure Selections, a spice and cookware company on West Saanich Road, but another company that installed a faulty part in the generator is financially responsible for the clean-up, Epicure spokeswoman Erin Acton said. "We had a part fail in the generator and Finning, the company that supplied the part, is responsible for assessments and mitigation," Acton said.
The generator was fired up last Sunday and the Environment Ministry was called as soon as the leak was noticed Tuesday, Acton said.
Ministry spokesman Suntanu Dalal said booms and pads were placed at several places between the spill site and Patricia Bay on Wednesday, and more remedial work was scheduled for Friday.
Provincial and federal staff will inspect the site Monday, Dalal said.
Department of Fisheries and Oceans officials inspected the outfall at the beach on Thursday morning and did not observe any visible contamination," he said.
Epicure is working with spill response co-ordinators and agencies that are trying to mop up the oil, Acton said.
"And we are working with Tseycum [First Nation]. They are our neighbours and our friends and we are very concerned about this," she said.
But Tseycum Chief Tanya Jones said band members knew nothing about the spill until late Wednesday when they were horrified to see the oil wash up on a beach they are trying to restore.
"We are just concerned about the wildlife and the beaches," Jones said.
"You can smell it in the air and see it in the stream and the water."
Tseycum biologist Stephen Barr was carrying out sand lance surveys,
as part of the beach restoration, when he saw the oil. "This is a big step backwards," he said.
"It's going to do some damage somewhere."
By Thursday, the rain washed more oil into the ocean and a slick remained clearly visible in the bay, Barr said.
"At the moment, the wildlife looks OK, but it's hard to tell," he said.
North Saanich Fire Department was first on the scene and laid out booms and absorbent
pads, Fire Chief Gary Wilton said.
"It got into a little drainage ditch and that takes it right out to the ocean," he said.
Recent wind and rain is helping to disperse the diesel, Wilton said.
"It shouldn't do too much damage," he said.
Meanwhile, the Environment Ministry has warned anyone who has fuel storage on-site to be especially vigilant during and after storms.
"Even small amounts of hazardous materials can have negative impacts to public health and the environment when spilled," Dalal said.
"Costs of spill response, clean-up and restoration, even for small spills, can
be extremely expensive and the person in possession or control of the material at the time of the spill is legally responsible under B.C.'s polluter-pay system."
Spills should be reported to 1-800-663-3456.
jlavoie@timescolonist.com
We thought you might also be interested in..