UVic takes advice on consulting the public
Jan 28 2012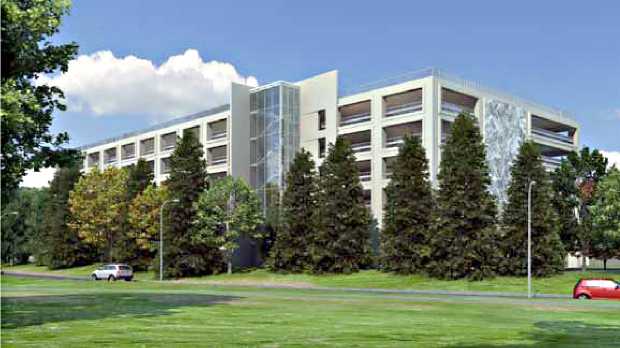 An artist's impression of the proposed parkade.
Photograph by:
University of Victoria, .
The University of Victoria is revising how it communicates with the public on large projects after a report found that many people feel that UVic has made a poor job of it on recent matters.
UVic hired a municipal planning consultant firm to review and make suggestions on how the university dealt with its application to Saanich council to build a seven-level parkade at the McKenzie Avenue entrance.
The parkade would be part of a $75-million sports complex project — the Centre for Athletics, Recreation and Special Abilities (CARSA) — that would include state-of-the-art buildings for athletes and research.
No one was opposed to the new buildings, but many residents had questions about the parkade and the way UVic consulted with the community on such a large project.
The project requires municipal approval on height and parking variances to proceed. But that application was denied twice by Saanich council. Councillors said the university did not adequately consult with the community.
UVic insisted that it did carry out consultation, but decided after the second refusal to have a consultancy review the process and make recommendations on community engagement.
Vancouver-based HB Lanarc Consultants conducted 22 interviews with community members, community association representatives, people affiliated with the university, Saanich staff and councillors.
All of the people interviewed saw the need for the new athletic facility, but some had concerns over the size, location, design and visual impact of the parkade.
The vast majority of their concerns had to do with process, "how to ensure that future consultation efforts by UVic were more respectful, meaningful and collaborative," the report said.
A consistent message in the interviews was that consultation efforts on the parkade and other projects, such as the Queenswood rezoning application, had not been sufficient and that major improvements are needed, the report said.
Last year, UVic applied to rezone six hectares of land on Arbutus Road, possibly to be used for student housing. It came under fire from residents for lack of consultation.
"UVic is perceived to have taken a 'design, announce, defend' approach with CARSA, providing little room for meaningful input or project modifications to response to concerns raised," the report said.
"This is seen as disrespectful of both community members' and council members' concerns, and has resulted in more opposition to the CARSA project than would otherwise have been the case."
UVic said it will start soon with a more in-depth and widespread consultation process on the project, as recommended by HB Lanarc. It aims to resubmit the plan to Saanich council in June.
The full report can be read at uvic.ca/carsa.
kwestad@timescolonist.com
We thought you might also be interested in..