RCMP bomb squad detonates suspicious package in Saanich
Jan 29 2012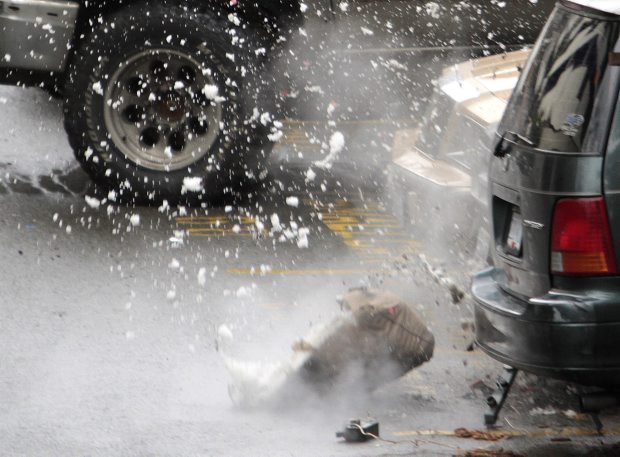 The RCMP bomb squad used a water cannon to detonate what they said was a homemade fireworks device.
Photograph by:
Lyle Stafford, timescolonist.com
An RCMP bomb squad from Vancouver used a water cannon to detonate what they said was a homemade fireworks device in Saanich.
The water canon caused a loud bang around 2 p.m. in the parking lot of an apartment building at 3277 Glasgow Avenue where the device was found at 7:20 a.m. in front of a Mazda pickup truck.
Cpl Brent Elwood, of the RCMP explosives disposal unit, said the device consisted of a fuse, a canister and fireworks powder, which would have detonated if someone lit the fuse.
"You got kids walking around on the street and they don't know what it is and they decide to light it. It's certainly not a smart move, dumb to make it, even dumber to leave it lying around," said Elwood.
The bomb squad came over Saturday morning to investigate the suspicious device that was "intentionally placed" in front of a vehicle at 3277 Glasgow Ave., Saanich police said.
A resident of the apartment building called police around 7:20 a.m. when he came out to his pickup truck and saw the item, the size of a roll of toilet paper wrapped in red duct tape with a green fuse sticking out of it, said Sgt. Paul Lamoureux.
Police arrived and cordoned off the 3200 block as they investigated.
"It was right in front of his parking stall. So it's intentionally placed for sure," Lamoureux said. "It looks like an improvised explosive device, but we don't know. We have to treat it seriously."
Lamoureux said if the device is a prank "it's a really expensive prank."
People were advised to avoid the area
kderosa@timescolonist.com
We thought you might also be interested in..