RCMP bomb squad detonates 'homemade firework' in Saanich
Jan 29 2012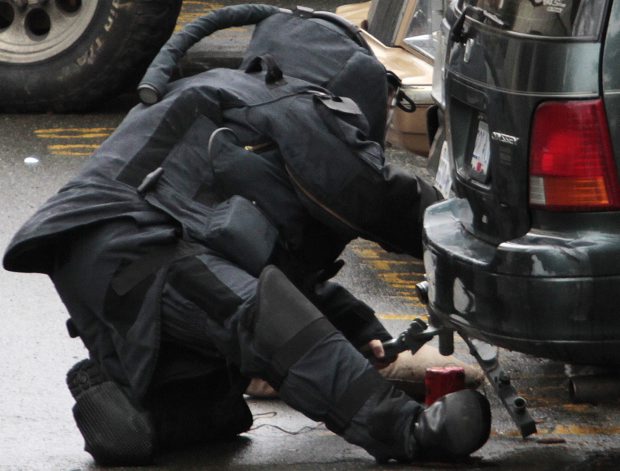 The device consisted of a fuse, a canister and fireworks powder, which would have detonated if someone lit the fuse.
Photograph by:
Lyle Stafford, timescolonist.com
An RCMP bomb squad from Vancouver used a water cannon to detonate what they said was a homemade firework found near a Saanich apartment complex Saturday.
An officer dressed in full protective gear shot the water cannon at a sandbag placed over the firework, which caused a loud bang around 2 p.m.
The device — the size of a roll of toilet paper and wrapped in red duct tape with a green fuse sticking out of it — had been found at 7:20 a.m. in the parking lot of an apartment building at 3277 Glasgow Ave.
The 3200 block was blocked off by police tape as police investigated. The area was reopened around 2:15 p.m.
Cpl. Brent Elwood, of the RCMP explosives disposal unit, said the device consisted of a fuse, a metal and cardboard canister and fireworks powder, which would have burned off if someone lit the fuse.
"You got kids walking around on the street and they don't know what it is and they decide to light it. It's certainly not a smart move. Dumb to make it, even dumber to leave it lying around," said Elwood.
The bomb squad was called after a resident of the apartment building found the item in front of his pickup truck, said Sgt. Paul Lamoureux.
Police initially feared that the device was a bomb and called the specialized team from Vancouver to err on the side of caution, Lamoureux said.
The firework amounted to "a really expensive prank," he said.
Five officers from Saanich, two Mounties from the bomb squad and one Victoria member spent more than six hours dealing with the call.
CFB Esquimalt has an explosives ordinance disposal unit, but it isonly called if the explosive is a military device.
Police are investigating who made the device and are looking for fingerprints on the duct tape.
Lamoureux said it is unclear as to whether the person who left the device could face mischief charges.
kderosa@timescolonist.com
We thought you might also be interested in..
Notice
: Undefined index: event in
/home/viccity/public_html/v2/content.php
on line
67