Graffiti vandals tagged in Colwood crackdown
Jan 29 2012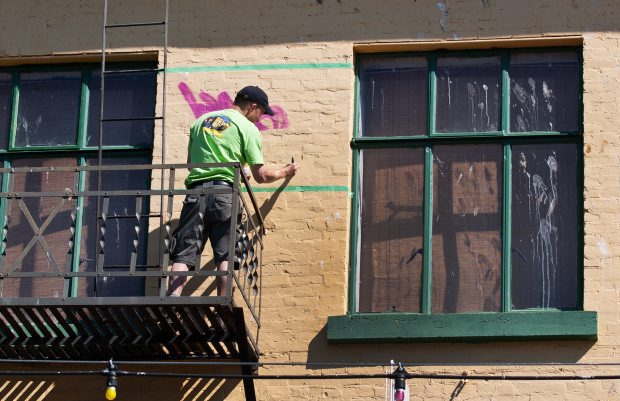 A worker removes graffiti from above Shanghai City on Fisgard Street in Victoria on Aug. 3, 2011. Victoria police say graffiti removal in communities throughout the Capital Regional District costs about $1 million a year.
Photograph by:
Darren Stone, timescolonist.com
Three months into an anti-graffiti pilot project in Colwood, organizers have already handed out 12 fines, identified seven taggers and forced a couple of vandals into community service.
Phil Williams, the head of the six-month pilot program, wants a regional graffiti database to store photos of tags — the spray-painted signatures of the vandals — and list the extent of the damage they cause.
Colwood's graffiti outreach program, which began Oct. 24, replicates systems in other municipalities. A single regional database, however, would bolster the crackdown on this costly form of vandalism, said Williams, Colwood's graffiti outreach co-ordinator.
"If you're not sharing information, you may miss the boat when a person is caught in Victoria, plus has done damage in the West Shore," he said. "We're trying to bridge that gap a little bit."
Graffiti removal in communities throughout the Capital Regional District costs about $1 million a year, Victoria police say.
Bylaw and police officers from various municipalities share information at weekly meetings, but an integrated database would be more efficient, members say.
Saanich Police Department has its own graffiti database, but officers would be interested in a regional system. "We do have our own system, but are always interested in any advances in technology that might make our investigators' lives easier," said spokesman Sgt. Dean Jantzen.
Colwood spent $10,000 in the first six months of 2010 removing graffiti from city property, Williams said, adding the figure is just a fraction of the total cost to property owners.
City council members set aside $21,880 for the pilot project, which, they say, has shown significant results. The four-point program focuses on monitoring and reporting, education, cleanup and enforcement.
Williams also worked with the West Shore RCMP to add municipal bylaw tickets for graffiti offences, along with photos of tags, to PRIME-B.C., the RCMP's provincial offender database.
The PRIME system helps, but a primary database set up specifically for graffiti would help with investigations before they lead to convictions.
Williams recently used his database to cross-reference two vandals picked up by police in a neighbouring community. Williams interviewed the men, who admitted to hitting several sites in Colwood.
They face criminal charges for the first offence, while Williams has issued $571 in fines and persuaded the men, in their early 20s, to agree to community services. Their enthusiastic response has left him with hope that the program will work.
"They have both been very remorseful and one has said he wants to continue volunteering after his community service is done," Williams said.
dspalding@timescolonist.com
We thought you might also be interested in..