Funeral for fire victims to take place Sunday
Jan 29 2012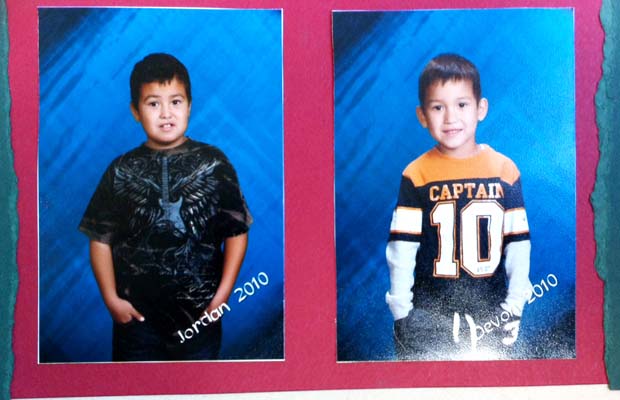 Jordan Drake, 9, and Devon Drake, 7, have been identified by family members as the victims of a fire on the Nanoose reserve Wednesday morning.
Photograph by:
Nanaimo Daily News, Handout
The funeral of two boys from the Snaw'Naw'As First Nation who died in a house fire is due to take place Sunday.
Jordan Drake, 9, and his brother Devon, 7, died in the accidental fire early Wednesday.
They had been staying at a relative's house because of fears that a windstorm would knock trees onto their own home.
The funeral at the Tsow'tun'lelum Centre in Nanoose will start at 9 a.m. Prayer services for the boys were being held Saturday night.
Band councillor Natasha Bob said anyone who is able to attend will be welcomed to the funeral. She explained some Coast Salish cultural differences about bereavement.
"There is a lot of commonality among our cultures, but the mourning process is very private for us individually," Bob said.
"Whereas in other cultures, people freely go to those that are mourning and shake their hand, or engage in conversation, it is a bit more of a private process here.
"It is usually at a distance that we are showing support and being present."
The community was shaken by the tragedy, but is pulling together to see that the needs of the remaining family members, who lost everything in the fire, are met, Bob said.
Anitsa Hawkins and Kyle Evans and their sons, Kiodi, 4, and William, 9, escaped the burning home, but required hospital treatment.
Those affected by the fire appreciate all the donations and offers of help that have come in, a spokeswoman for the band said Friday.
Sandra Campbell, who is organizing the collection of non-monetary donations, said she had received many phone calls.
"People seem very interested in helping out," said Campbell, who helps with the band's accounting, but is not a member.
"We've had a lot of offers for bedding and blankets and things like that."
Campbell said there had been many offers of furniture, but they were being discouraged because of the problems with storing goods until the family can find a new home.
Offers of help have come from individuals and several companies that do business with the band, she said.
"It would be easier to deal with if we could get cash donations that could be used as they were required," Campbell said.
"I know the one thing they need [is] gas money, for instance. They have a lot of medical appointments because of the fire."
To donate goods, call Campbell at 250-951-4738.
Cheques can be dropped off at the band office at 209 Mallard Way or paid into trust funds at CIBC called "Memorial Fund for Jordan and Devon" and "A New Beginning" (the latter for Hawkins, Evans and their sons).
There are also trust funds at the Bank of Montreal called "Edward/Drake" and "Anitsa Hawkins/Kyle Evans."
Nanaimo fire inspector Ennis Mond said Friday he had wrapped up his on-site investigation.
He said to expect the results of the investigation from the Office of the Fire Commissioner Monday.
We thought you might also be interested in..