Smart-meter opponents energized
Jan 31 2012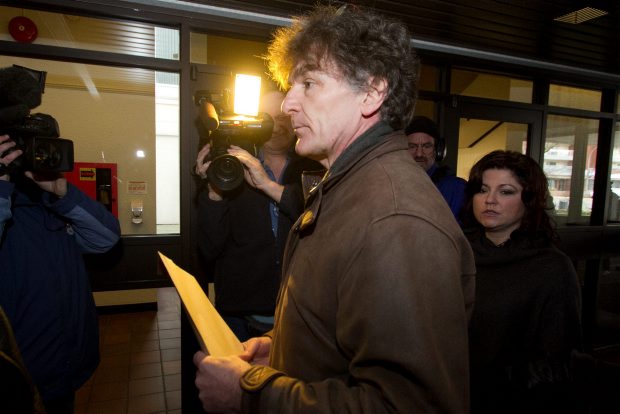 Smart-meter opponent Steve Satow delivers letters Monday at the office of provincial health officer Dr. Perry Kendall.
Photograph by:
Darren Stone, timescolonist.com
Protesters took shots at provincial health officer Dr. Perry Kendall Monday afternoon in another effort to condemn the rollout of smart meters across B.C.
Members of the StopSmartMeters.ca Society arrived at Kendall's office in downtown Victoria to deliver letters from U.S. medical officials who criticize radio- frequency standards that regulate smart meter devices, such as the 1.8 million scheduled to be installed by B.C. Hydro by the end of the year.
But Kendall said research shows smart meters are well within health standards.
The meters measure electricity use and transmit the information to B.C. Hydro.
Steve Satow, the president of the anti-smart meter coalition, spoke to media about letters brought to Kendall. One, from board members of the American Academy of Environmental Medicine, says radio frequency guidelines set by the U.S. Federal Communication Commission are out of date and "inadequate for use in establishing public health standards."
Those comments were echoed in a second letter from Dr. Poki Namkung, a health officer for Santa Cruz County in California.
StopSmartMeters.ca members say these statements are relevant to British Columbians because FCC guidelines are similar to Canada's regulations.
Kendall, however, pointed to research by the B.C. Cancer Agency in Vancouver.
Intermittent radio frequency radiation from smart meters is emitted at several levels below standards set for cellular phones, according to a statement on the B.C. Health Ministry website written by Dr. Mary McBride, cancer control researcher with the B.C. Cancer Agency.
B.C. Hydro says the active transmission time for a single meter over a two-day period is only 2.73 seconds.
Satow said this fails to take into account residents' exposure to neighbouring meters.
He said his group will continue to raise awareness over the next two years.
Members of StopSmartMeters.ca have been lobbying to stop the installations with threats of a legislative recall.
So far, 3,670 people have said they would support a petition to use the province's Recall and Initiative Act to prevent B.C. Hydro from installing the devices in homes.
The initiative would include draft legislation to force a recall of smart meters.
A recall initiative requires signatures from 10 per cent of registered voters in each of the province's 85 ridings.
dspalding@timescolonist.com
We thought you might also be interested in..