Funding restored to Coombs bird refuge, despite government's earlier criticism of grant money for parrots
Jan 31 2012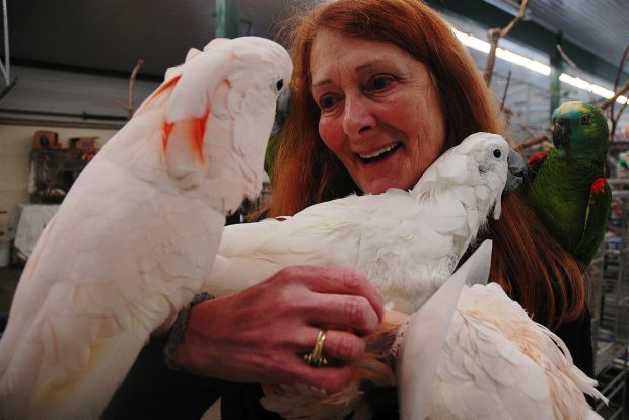 World Parrot Refuge co-owner Wendy Huntbatch is ecstatic at having some of the refuge's provincial funding returned.
Photograph by:
Danielle Bell, Nanaimo Daily News
A parrot refuge in Coombs, which the B.C. government had held up as an example of misspent taxpayer dollars, has had some of its provincial funding restored.
The World Parrot Refuge, which lost its gaming grants two years ago, received a surprise injection of $55,000 from the province last week, said co-owner Wendy Huntbatch.
"I saw it and I tell you I just couldn't stop laughing," Huntbatch said. "You can't imagine how exciting it is."
The refuge had all but given up on government support after Rich Coleman, then the minister responsible, rejected its gaming grant in 2009 as part of cutbacks to the program.
Coleman portrayed the parrots as a symbol of misplaced priorities for grant money. The centre had received between $70,000 and $100,000 annually in prior years. Coleman said he was left wondering why the refuge received any taxpayer money at all. "Parrots aren't an indigenous bird and they were getting $100,000 for parrots," Coleman said at the time. "I would prefer that money go to ice time for some girls' hockey team or a food bank."
"It was a ridiculous comment," Huntbatch said. "Everybody laughed at it. They just thought this guy was an imbecile."
The Liberal government was hammered by thousands of angry charities and non-profit groups across the province that depended on grant money and suddenly saw it disappear. The funds come from the more than $1 billion a year the government receives in gambling revenue. The gaming-grant pot shrank from $156 million in 2008 to $120 million in 2011-12.
Premier Christy Clark promised to boost funding, and added $15 million this month. She restored eligibility for adult arts and sports groups, as well as environmental and animal welfare agencies, which had been cut off.
It couldn't come at a better time for the parrot refuge, said Huntbatch, which holds fundraisers to meet its $550,000 a year budget to care for more than 800 birds — most of them pets that have been turned in or abandoned — and pay 17 staff members.
The refuge's new gaming grant is designated for an educational group, she said. The refuge hosts a variety of education programs about parrots.
The money should be enough to get the organization to April, when fundraising will begin again, said Huntbatch.
NDP MLA Scott Fraser, whose Alberni-Pacific Rim riding includes the parrot centre, said he's pleased funding was restored and hopes it bodes well for other Island wildlife groups.
"It was unfair and unprofessional for minister Coleman to criticize them," he said. "I'm happy for the operators and the public, who want to see parrots treated with humanity."
rshaw@timescolonist.com
We thought you might also be interested in..