Students rally at legislature for lower tuition, interest-free loans
Feb 01 2012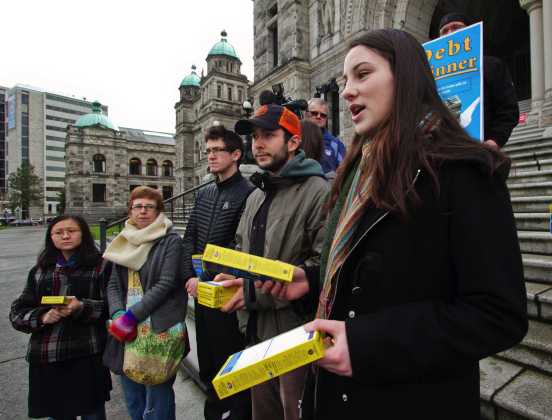 Camosun College student Madeline Keller-MacLeod speaks at Tuesday's rally in front of the B.C. legislature to promote today's day of action.
Photograph by:
Darren Stone, timescolonist.com
When the fresh bread arrives at the Camosun College campus food bank every Thursday morning, there's usually a lineup of hungry, impoverished students waiting to eat it.
There's such demand, the student society that runs the food bank holds back some of the buns and loaves — donated by Cobs Bread in Langford — so it can parcel them out later for the afternoon crowd.
Otherwise, the whole supply is gone within half an hour, said Madeline Keller-MacLeod, external affairs executive at the Camosun College Student Society.
It's just one example of the financial strain, and crushing debt, many students are faced with while pursuing their post-secondary education, she said.
"I've talked to lots of people who have told me they are trying to write essays and haven't eaten in three days," said Keller-MacLeod.
Student societies across the country are holding a day of action today to highlight their rising tuition fees and debt levels.
A group of Camosun students gathered at the B.C. legislature Tuesday, demanding the federal and provincial governments lower tuition rates, restore non-repayable student grants and eliminate interest payments on student loans.
Daphne Crossman, a second-year social linguistics student at Camosun, said she already has a $35,000 student debt with two or three years left in her education.
"These massive amounts of student debt add a huge economic barrier to people like me who can't afford to go to school without student loans," she said. "I will be working this off for the next 20 years."
The students aren't alone in their demands. B.C.'s biggest universities, including the University of Victoria, called on government to lower interest rates on student loans last year.
The government charges an interest rate of prime plus 2.5 per cent. That's making B.C. less competitive than other provinces with more attractive aid packages, the Research Universities' Council of B.C. said.
An average B.C. university student graduates with $27,000 in debt from provincial and federal loans, according to the Canadian Federation of Students. The provincial government said 30 per cent of post-secondary students graduate with loans.
Tuition rates for a four-year arts or science degree in B.C. have more than doubled in the past 10 years from $8,800 to $20,000.
Advanced Education Minister Naomi Yamamoto said Tuesday she won't be lowering student interest rates because she's not convinced it would increase access to education or allow more people to go to school.
"If you go to a campus and talk to students, that's not what they are talking about," she said.
Instead, the government needs to "communicate better" its existing programs, including more than $700 million in provincial and federal grants, loans, and student aid forgiveness and reduction programs.
"There's this balance between what the taxpayers are already paying and what the obligation for a student is," said Yamamoto. "I think it's good to have some skin in the game and then there's an incentive to actually finish a program."
Opposition NDP leader Adrian Dix has made post-secondary education a leading attack point against the Liberal government.
Dix has previously promised to restore $100 million in non-repayable education grants and eliminate student loan interest payments. He said he'd pay for it by raising taxes on financial institutions to 2008 levels.
The Camosun student day of action is at the Lansdowne campus from 11 a.m. to 2 p.m.
rshaw@timescolonist.com
We thought you might also be interested in..