Greater Victoria's homeless have a new champion
Feb 01 2012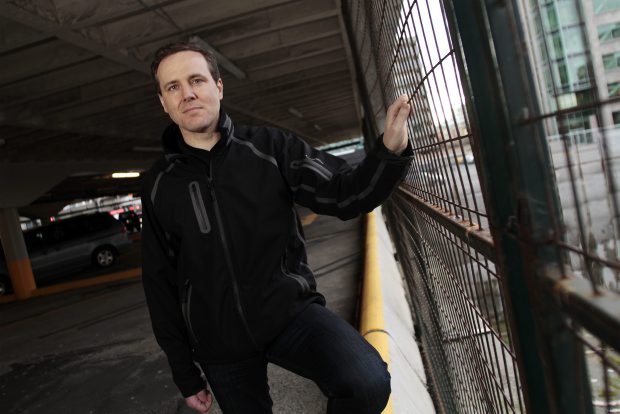 Andrew Wynn-Williams said he wants to do something that is more community-based.
Photograph by:
Lyle Stafford, timescolonist.com
When Andrew Wynn-Williams starts his new job today, he expects to get whiplash from his change of career direction.
Wynn-Williams, 46, left his job as the Premier's Technology Council operations director Tuesday, and prepared to take over as executive director of the Greater Victoria Coalition to End Homelessness.
"It will be a really interesting challenge," said Wynn-Williams, who lives in Saanich.
"But the first little while will be like drinking through a fire hose."
Before going to the Premier's Technology Council, Wynn-Williams was policy director for the B.C. Chamber of Commerce and executive assistant to two B.C. cabinet ministers.
"I wanted to do something different and more community-based," he said.
"I thought it was a good fit."
So did the search committee, made up of local leaders with an interest in homelessness, said Victoria Mayor Dean Fortin, co-chairman of the coalition.
"There was an exhaustive search and more than 50 applications, and it was wonderful we came up with someone in our backyard," Fortin said.
Wynn-Williams will bring administrative skills and experience in working with elected officials from all levels of government, as well as non-profits, said Fortin. The mayor is not concerned that Wynn-Williams has not previously worked on homelessness issues. "He's going to hit the ground running," Fortin said.
Wynn-Williams takes over from Debbie Thompson, who is returning to Toronto. Wynn-Williams said he developed an interest in solving homelessness after coming to Victoria six years ago.
"It will give me an opportunity to address some of the challenges people face," he said.
The coalition was formed three years ago and is made up of local service groups, non-profits, all levels of government, businesses and church groups. It aims to end homelessness in Greater Victoria by 2018.
That can be done, given the right conditions, Wynn-Williams said. "Can it be met? Absolutely. Is it going to be easy? Absolutely not.
"Over the next 15 months, we will be entering the election cycle and that should give the opportunity to raise the profile of some of these issues."
In the 2010-2011 fiscal year, 535 people were moved into housing and, through various levels of government working with the coalition, the supply of affordable housing grew, Fortin said.
Projects underway include 39 units for aboriginal youth and young families at the former Traveller's Inn on Gorge Road, 23 units on Swift Street and 36 units in the former Traveller's Inn on Queens Street.
"When you talk to people, whether they are buskers, bus drivers or business people, there's a fundamental difference in the streets of Victoria from three years ago," Fortin said.
That does not mean the coalition can rest on its laurels and more needs to be done, especially with coalition statistics showing that 1,958 individuals used shelters in Greater Victoria last year, Fortin said.
The big challenge now is identifying the next two or three projects, Fortin said.
"What do you build? How do you pay for it? And the biggest challenge is always the operating dollars," he said.
"Morally and financially, it just makes sense to end homelessness. . . . We know that it's cheaper to house people than to keep them homeless."
jlavoie@timescolonist.com
We thought you might also be interested in..