Shipyard mop-up nears completion
Feb 03 2012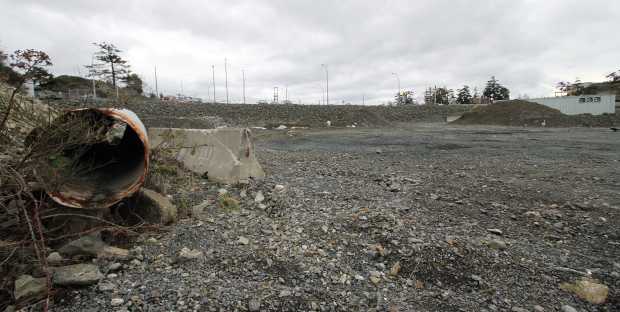 The Yarrows shipyards site at CFB Esquimalt is in the final stages of remediation. (January 2012)
Photograph by:
Adrian Lam, timescolonist.com
More than a century after shipbuilding began at the old Yarrows site in Esquimalt and 18 years after the ship builder closed down, a multimillion-dollar environmental cleanup is almost complete.
The ultimate use for the 12-acre site, now part of CFB Esquimalt, has still to be determined.
"Our goal is just to make sure that if and when development happens in that area, the site does not have environmental limitations," said Graham Smith, base environment officer. He said the aim is to bring the site to government standards for industrial use.
A new wall now separates the sea and the land, and a gravel base tops the remediated portion of the site. Wells around the property allow underground conditions to be monitored.
"It really was a fix-up success story," said safety officer Duane Freeman, Department of National Defence project manager for the major cleanup work. Public Works and Government Services Canada issue tenders and manage contracts on behalf of DND, such as this remediation.
The base has used its own funds to perform incremental rehabilitation while Public Works has managed contracts for major rehabilitation, which total $11 million to date.
In 2006, high concentrations of hydrocarbons — natural compounds found primarily in crude oil — were discovered. Freeman said that "two solid feet" of Bunker C oil — used on ships — was revealed in a monitoring well.
Bids closed Wednesday for the latest stage in the cleanup, expected to be worth close to $1 million. The winning bidder will remove and dispose of contaminated soil, replacing it with new fill.
This portion of the site is further upland and less contaminated than the already-scrubbed area closer to the water. Funds will come out of the base's environmental works budget.
Also coming is a risk assessment of the uppermost section of the former shipyard, where Yarrows' offices and parking were located, to learn if further work is needed.
As the defunct shipyard land is being rehabilitated, B.C.'s shipbuilding industry is celebrating winning the right to negotiate to build
$8-billion worth of federal non-combat ships. The first steel is expected to be cut early next year under contracts anticipated to bring stability to the industry and create thousands of jobs.
In its lifetime, Yarrows built hundreds of vessels, including Canadian Pacific Railway Princess passenger ships, tugs, barges, ferries, fishing trawlers, minesweepers, patrol frigates, corvettes, landing craft, scows and federal research and patrol vessels. The yard also repaired countless others.
But shipbuilding has waxed and waned on the coast. The industry's future looked bleak when Yarrows and Victoria Machinery Depot, another shipbuilder, closed in 1994.
When the federal government took possession of the land, it also took on the responsibility to clean it up.
The most severe contamination was that closest to the water where the heaviest industrial use took place. A hodgepodge of fill had been dumped on the shore to create more land in a time when environmental sensibilities and knowledge were far different.
That area was cleaned up in 2008-2009 when 90,000 tonnes of material was removed in what base environmental staff described as a technically challenging, complex project. Quantum Murray and SLR Global Environmental Solutions were the major contractors on the job, supported by 35 sub-contractors, Smith said.
Contaminated fill below the historic 1924 shoreline was removed. Material was tested at laboratories, taken to approved disposal sites, and new fill was put down.
Digging through the muck to depths of nine metres brought surprises.
"They used whatever they could to fill in the land," Freeman said.
A huge propeller was unearthed and saved for display. Boulders the size of cars, scrap metal, slag, chunks of concrete, creosoted piles, oils, greases, heavy metals such as lead, and riveted tanks still holding oil were among the discoveries.
The bomb squad was called in after a barrel containing sticks of dynamite was found.
The amount of material removed was the equivalent of 7,642 tandem truckloads of soil, Smith said.
Ocean barges, trucks and rail cars carried away material, including 60,000 tonnes sent to permitted facilities, plus another 3,000 tonnes of hazardous waste metals and hydrocarbons. About 27,000 tonnes of coarse rock was screened and reused.
Construction of a 201-metre barrier wall separating land and sea was "really challenging," said Freeman. Excavators worked to depths of up to nine metres below sea level as it was being installed.
A clay mineral slurry wall was constructed in places where the bedrock was close to the ground's surface. More than 2,500 cubic metres of concrete was used. A secant pile wall — a kind of retaining wall — was built in deeper sections.
Building the wall was tricky. If seawater pushed it more than 10 centimetres, the excavator, working in a slurry, would move away for safety reasons. Approximately 350 metres of steel piles were used to support the wall, which was almost 13 metres high in some places.
About 28,000 cubic metres of water was pumped, treated and discharged in the project.
cjwilson@timescolonist.com
We thought you might also be interested in..
Notice
: Undefined index: event in
/home/viccity/public_html/v2/content.php
on line
67