Target to open at Tillicum after $10-million overhaul
Feb 03 2012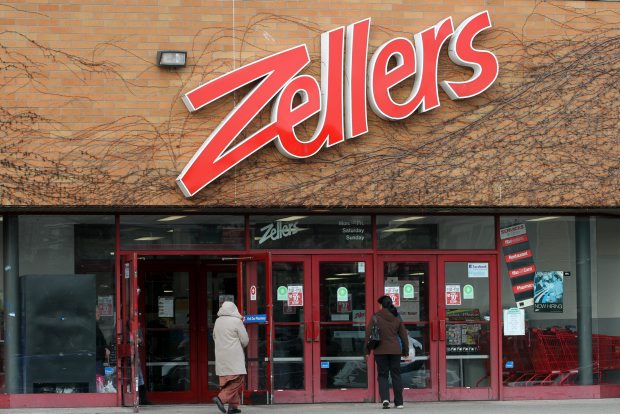 Zellers' Tillicum store is likely to close this summer or fall.
Photograph by:
Bruce Stotesbury, timescolonist.com
Target Corp. confirmed Thursday it will open its first store in Greater Victoria at Tillicum Centre in late spring next year.
The U.S. retail giant will convert the Zellers location in the Saanich mall, spending between $10 million and $11 million to remodel the two floors, which cover about 150,000 square feet.
It was the sixth confirmation so far of Target taking over Zellers locations in B.C. after additional announcements Thursday for Campbell River's Discovery Harbour Centre, Willowbrook in Langley and Tamarac Mall in Cranbrook. Target confirmed new locations for Courtenay's Driftwood Mall and Kelowna earlier this week.
Announcements are also expected any day for Nanaimo's North Town Centre.
Timing of Target's store plans is based on lease agreements for existing Zellers stores, said Target spokeswoman Lisa Gibson.
In its announcement, Target said the opening at Tillicum is planned for spring 2013. It gave no timeline of when the Zellers would close for renovations, but it is likely sometime this summer or fall.
Gibson said renovations will close Zellers stores for six to nine months. She described it as a "complete renovation," stripping everything from the store. The Targets will have new fixtures, decor and checkouts.
The Tillicum store will employ between 150 and 200 people — double what Zellers typically employs at its locations — and hiring is expected to begin in June or July, Gibson said. Senior managers will be hired before that.
Zellers employees are encouraged to apply, but there will be no guarantee that Target will hire them, she said. Gibson said people interested in working for Target can go online to
target.ca/careers.
"We did not acquire any employees or technologies — only lease agreements," Gibson said of the deal to take over Zellers locations.
Target, a mass merchandiser known for low prices on stylish products, announced a major push into Canada after acquiring 220 Zellers lease rights from the Hudson Bay Co. in January 2011 for $1.8 billion. It acquired the leases of the Tillicum and Hillside Centre locations, but hasn't yet indicated whether it will open a store at Hillside.
The Hillside Zellers, with a footprint of roughly 75,000 square feet, is about half the size of the Tillicum location and considered too small for Target's proposed stores of more than 100,000 square feet featuring full grocery sections as well as general merchandise.
A rumour that Thrifty Foods might give up its space at Hillside gained traction last fall after Target announced that Sobeys, the parent company of Thrifty Foods, had signed a deal to provide groceries for Target.
But Jim Dores, president of Thrifty Foods, told the Times Colonist in December that although the grocer explored plans of building a stand-alone store in the mall parking lot — freeing up Thrifty's Hillside space for Target to expand — the move proved to be "unfeasible" and those plans were abandoned.
A Target store is not included in the current $50-million renovation and expansion plan for Hillside Centre. Vancouver-based land-use planning company Brook Pooni Associates is assisting Target in setting up its new stores in B.C.
dkloster@timescolonist.com
We thought you might also be interested in..