Target to open next spring in Tillicum
Feb 03 2012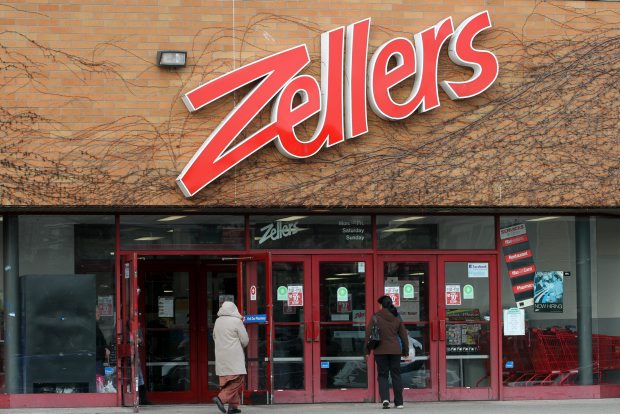 Zellers' Tillicum store is likely to close this summer or fall.
Photograph by:
Bruce Stotesbury, timescolonist.com
The lights will soon go dark at the Zellers location in Tillicum Centre as Target Corp. is planning a $10 million overhaul of the store before opening its first Target store in Victoria next spring.
Target spokeswoman Lisa Gibson did not give a date for Zellers' closure, but confirmed the spring 2013 opening date and said it would take six to nine months to completely renovate the 150,000 square foot, two-level space that has been a Zellers for 13 years since it replaced Eaton's.
Gibson said the renovations, expected to cost between $10 million and $11 million, will tear the store down to studs in order to replace it with new fixtures, decor and point-of-sale systems before inventory hits the floor.
Last May Target announced it would be opening a Target location in 2013 at Tillicum and three other Island Zellers locations — Discovery Harbour Shopping Centre in Campbell River, Driftwood Mall in Courtenay and Nanaimo's North Town Centre.
Thursday's confirmation of the Tillicum store was made along with that for the Campbell River location. A confirmation of the Courtenay location came earlier this week, and one for Nanaimo is expected any day now.
Gibson said the timing of the store announcements are based on lease agreements with current Zellers stores.
In all, the U.S. retail giant with the bull's-eye logo intends to turn 15 B.C. Zellers locations into Target stores in 2013, while there will be 105 Target locations across Canada with 45 in Ontario, 19 in Quebec, 13 in Alberta and the rest spread throughout the other provinces.
While Rio Can, which owns Tillicum Centre, did not return calls Thursday, one of the mall's anchor tenants eagerly anticipates Target's opening next year.
"Target will certainly be an initial draw to the mall, it will certainly draw more people than what Zellers is currently drawing," said London Drugs CEO Wynne Powell. "Target is a very credible retailer as London Drugs is, and having two or more capable retailers at Tillicum will be very attractive to the public."
Powell said traffic is bound to be affected when the store is closed for renovations, but he said London Drugs is unlikely to take much of a hit.
"We are a destination store, we can stand on our own," he said. "When you are on the shopping list of your customers they come, what happens when you have better overall offerings (at a mall) is you pick up additional customers who may have came for one purpose but come to your for another."
Avra Deleeuw, one of the owners of the Lion's Den Games Room, which sells pool tables, board games and poker sets, said they are anticipating a drop in traffic during renovations.
"It is probably going to hurt, Zellers was such a big store and it brings a lot of people here," she said, noting half their business comes from walk-by traffic, the rest consider the Lion's Den a destination.
As for the new Target store, Deleeuw admits she's never been to a one before so she's not sure what to expect.
"I've heard our suppliers talk about Target, and I am assuming it's a very big thing as it's the first time I've seen the (Rio Can) owners from Toronto at the mall, and they are certainly talking about how it will impact us greatly," she said.
Target is known for its low prices on higher-end style, and according to retail experts is often considered "a cool Walmart."
In an earlier interview, Royal Roads University faculty of management professor Geoff Archer said it's likely it will breathe new life into tired Zellers locations.
"For years in the U.S. people have been referring to it as Targé because it has an acceptable, fun, nice concept," said Archer, noting the company is now the second largest discount retailer in the U.S. after Walmart.
Target bought the lease rights for 220 Zellers locations from the Hudson's Bay Co. for $1.8 billion in January 2011. At the time the company said it planned to open as many as 150 Target stores in Zellers locations by 2014.
The Tillicum Target location will employ between 150 and 200 people — typically double what Zellers employs at its stores — with hiring expected to begin in June or July, said Gibson. Senior managers will be hired before that.
Zellers employees will be "encouraged" to apply, but there will be no guarantees they will secure positions with Target.
"We did not acquire any employees or technologies — only lease agreements," said Gibson.
Target has not indicated if it will open a Target store in the Hillside Zellers location. That site is half the size of the Tillicum Zellers and is considered too small for Target's proposed stores of more than 100,000 square feet.
In December Jim Dores, president of Thrifty Foods, killed the rumour of the grocer giving up its space at Hillside to free space for Target to expand. Dore said while Thrifty Foods looked at plans to build a stand-alone store in the mall parking lot the move proved to be "unfeasible."
Redcliff Realty, which managed Hillside Centre on behalf of its owners, the Canada Pension Plan Investment Board, has said it wants to work with Target on bringing a store to Hillside.
aduffy@timescolonist.com
dkloster@timescolonist.com
We thought you might also be interested in..