Woman defends Island dam named after her father
Feb 04 2012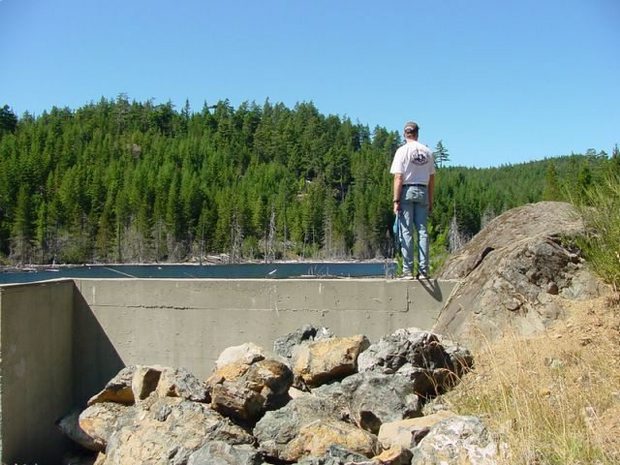 Glen Varney of Sooke Salmon Enhancement Society on top of the dam spillway over De Mamiel Creek looking to see how much water is in the reservoir.
Photograph by:
Supplied photo, Sooke Salmon Enhancement Society, timescolonist.com
When Bill James was told in 1976 that the dam on De Mamiel Creek would be named after him, he felt proud and honoured, said his daughter, Mary Gardner.
Now Gardner can only imagine her father's reaction to Fisheries and Oceans' plans to destroy the dam on the highly productive coho stream.
"I think he would be astounded by the stupidity and short-sightedness of this move," said Gardner, who lives in Nanaimo.
"Decades of work by hundreds of people have gone into the enhancement of the Sooke River system. This will be a tremendous loss to the whole community," she said.
James, who died almost five years ago, and other members of Sooke Conservation Society were instrumental in planning the Bill James Dam on De Mamiel Creek, about 11 kilometres northwest of the mouth of the Sooke River. It was built with the help of DFO, which then took it over.
The dam was made possible by intense community fundraising, help from Sooke Lions Club, donations of materials from local companies and expertise from engineering companies, according to Conservation Society minutes kept by Gardner. "Over 100 people attended a meeting in Sooke on Nov. 4 to discuss progress and the support needed. Many people signed up for volunteer assistance and nearly $4,000 was pledged," the minutes say.
The biggest thrill came four years later when it was found that the dam had achieved its purpose and a good run of coho returned to the creek, Gardner said.
"I remember to this day how excited they all were," she said.
Lack of water in the creek during dry summer months meant that fry were unable to survive, but the release of water from the dam resulted in soaring numbers of coho.
Sooke Salmon Enhancement Society figures show between 2,500 and 5,000 spawners now enter the creek annually, but members say the run will be wiped out without summer water from the dam.
Adam Silverstein, DFO area manager for ecosystems management, does not believe the run will be exterminated and says the dam must go because of budget constraints and liability fears.
Gardner said she sympathizes with difficulties caused by budget cutbacks.
"But surely their mandate is to preserve and enhance this precious natural resource, rather than killing the fish," she said.
The decision is being fought by all levels of Juan de Fuca politicians and the Otter Point and Shirley Residents and Ratepayers Association is now adding its voice to the chorus of objections.
In addition to problems for the fish, destroying the dam is likely to adversely affect homeowners in the area, said association president Arnie Campbell.
"There are 15 known water licences on De Mamiel Stream," he wrote in a newsletter. "Thirteen are domestic licences and local households could be affected by a decrease in water flowing in the creek during the summer months."
Some of those households have not even been told about DFO's plans, Campbell said.
Water levels in the creek are low in summer, even with the dam, and could get worse with climate change, Campbell said.
"I think DFO is being penny wise and pound foolish, he said.
"It seems illogical to waste all that investment."
jlavoie@timescolonist.com
We thought you might also be interested in..