Law pedals in tandem with owners of electric scooters
Feb 04 2012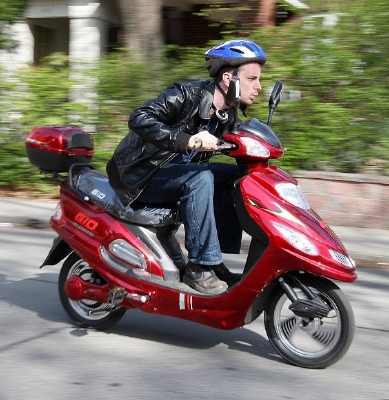 This electric scooter, with pedals attached, would not require a licence to operate.
Photograph by:
Peter Thompson, Postmedia News, timescolonist.com
Some people are learning the hard way that an electric scooter and its pedals belong together.
With pedals attached, the scooter requires no registration, licence or insurance. But remove the pedals, leaving all propulsion to the electric motor, and it becomes something much different in the eyes of the law.
No pedals means the scooter loses its legal status for the road and it is no longer what the Motor Vehicle Act refers to as a "motor-assisted cycle."
Victoria police Const. Andy Dunstan, a traffic officer, said it becomes a "limited-speed motorcycle" that requires a driver's licence, insurance and registration. People are generally warned if they are spotted by police, but that didn't stop one case of pedal removal from making it to court this week.
Dunstan said the offender faced prohibited driving and other charges. He was duly warned about his illegal scooter, but was caught operating it less than 30 minutes later, Dunstan said.
Fines can be pretty steep for wayward riding.
"No insurance is $598 and no driver's licence is $276," Dunstan said. "It becomes expensive. The fact that pedals might get in your way is not a reasonable defence to not having them on and not having a driver's licence."
Another problem police are seeing is people adding power kits to their regular bikes without knowing all of the regulations, he said.
"When people put lawnmower engines on mountain bikes, there's no way the brakes are uprated to support that kind of power system with the extra weight and the fuel. People don't educate themselves, so it's a surprise to them."
Dunstan said the necessary information is easy to find on the Insurance Corporation of B.C. website.
"It's not a huge problem, but let's try and prevent it from becoming a bigger problem."
Michael Stevulak, owner of Scooter Underground, said electric scooters with pedals fit into something of a "regulatory loophole," but it is quite common for the pedals to be absent. He said he used to do some servicing of the scooters and estimates that about 50 per cent of the ones he saw had their pedals removed.
That probably translates into a few hundred of the scooters around the city, he said.
Stevulak said the pedals on some of the models are little more than "ornamentation."
"They've got pedals, but they don't even have gears and a chain. If you broke down on one of those, pedalling would be marginally better than pushing."
He said he no longer carries the scooters, partly because they were finding a market among people with suspended driver's licences.
"They were attracting a clientele that we really didn't want to cater to."
jwbell@timescolonist.com
We thought you might also be interested in..