Downtown Victoria retail vacancies spike
Feb 04 2012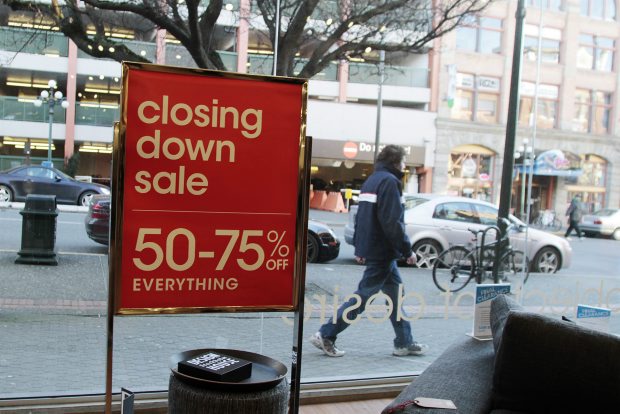 The rise in downtown Victoria's retail vacancies is due to a soft tourism market and economic uncertainties, according to a Colliers International year-end real estate report.
Photograph by:
Lyle Stafford, timescolonist.com
While the Greater Victoria retail market had a relatively healthy year, the downtown streetfront vacancy rate hit a six-year high suggesting a very cautious market, according to a Colliers International year-end real estate report.
Downtown Victoria's retail vacancy rate was 7.4 per cent last year, up from 5.9 per cent in 2010 and the highest level since 2005 when the rate was 7.8 per cent. "Limited tenant demand in the downtown core, coupled with a soft tourist market and economic uncertainty, has led to mixed tenant demand for downtown streetfront," the report said.
The report did suggest there are positive signs in the downtown core as there has been investment in heritage residential projects like the Oriental Hotel, which has filled its retail spaces. There are also redevelopment plans for the Victoria Plaza Hotel.
"Downtown Victoria's retail climate continues to transform as retailers strive to capitalize on the city's eclectic style, bringing new faces to the region," said the report, noting 2011 could be called the year of the burger considering Big Wheel Burger, Fatburger, Burger King, and Bin 4 all opened last year.
"While there continues to be a healthy mix of local businesses and larger retailers in downtown Victoria, the 'flight to quality' theme resonates from 2010 where tenants continue to expand or relocate to better space.
"Stronger merchants, such as Tilley and Sitka, are moving to larger, improved spaces to accommodate market demand. However, the store closings of Freedman Shoes and NOOD Furniture are indicative of the challenges facing the market."
Greater Victoria Chamber of Commerce CEO Bruce Carter said the retail story is a complex one.
"Colliers chalked up downtown vacancy to tourism, but I think there is also an element of change in the marketplace that's happening," Carter said, noting there's more demand for active lifestyle products and less demand for pure luxuries.
Carter also noted the antique retail trade has suffered, likely at the hand of changing demographics and interests. "The retirement crowd and the visitors who were buyers have changed. That group is getting younger and more active," he said. "When they go on vacation they are more likely to go whale watching or kayaking than buy an antique end table."
Carter also said vacancies tend to be cyclical and should be expected after challenging economic times. "I suspect there will be a fair bit of take-up of that space with new operators," he said. "And if they get their market right I suspect they will do quite well."
Overall, Colliers reported the Greater Victoria retail market was healthy in 2011 with space added and largely occupied at newly-completed projects such as Uptown Phase I, The Hudson and Atrium.
Colliers also noted the overall shopping centre vacancy dropped to 3.1 per cent last year, an improvement from the 3.5 per cent rate recorded in 2010.
Colliers is expecting 2012 to be relatively flat in the retail market.
There will be activity, though, as Westshore Town Centre will see La Senza and Sport Mart replaced with a larger Sport Chek, while an existing dollar store at the mall will be expanded into a 10,000 square foot Dollarama.
Uptown Phase II is scheduled to be completed in 2012 delivering an additional 220,000 square feet of space which could drive vacancy rates higher and create some movement throughout the region.
Colliers also released its fourth quarter office market report, showing there's plenty of life in Greater Victoria with improved vacancy rates and strong interest as demand for quality space returned.
Vacancy rates dropped to 8.28 per cent by the end of last year, down from a record high of 9.14 per cent set in 2010. Class A and B space saw positive overall occupation of 74,286 square feet last year, a massive swing from vacating 70,665 square feet in 2010.
Colliers reported there is a flight to quality in office space as well with vacancy rates in new buildings completed in 2010, dropping from 38 per cent to 18 per cent in 2011. In downtown, it dropped from 30 per cent to 1.3 per cent.
"This trend has resulted in increased vacancy in Victoria's older downtown office buildings, prompting landlords to upgrade buildings such as 1019 Wharf Street and 1112 Fort St. to modern office standards," said the report. "These capital investments have yielded substantial dividends by attracting quality tenants such as Microsoft and Elections B.C."
aduffy@timescolonist.com
We thought you might also be interested in..