Classical in style, Caribbean in flair
Feb 04 2012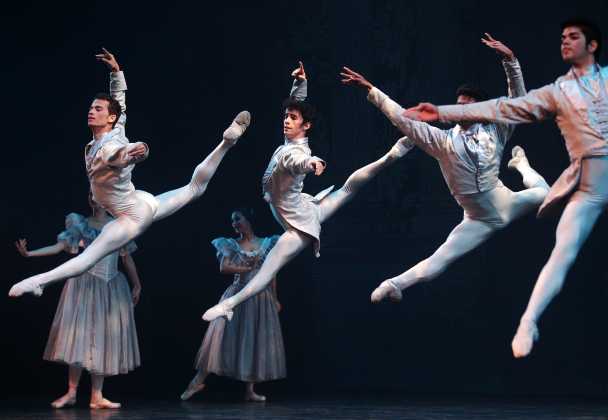 Ballet Nacional de Cuba performs a mixed program at the Royal Theatre Friday.
Photograph by:
Lyle Stafford, timescolonist.com
What: Dance Victoria presents Ballet Nacional de Cuba
When: Friday night, with additional performance Saturday
Where: Royal Theatre
Rating: 3.5 stars
The Ballet Nacional de Cuba spun, leaped and chasséd their way into Western Canada Friday night, kicking off their tour at the Royal Theatre.
The top Latin American ballet company inspires a particular curiosity in foreign audiences. In its 64-year history, it has become known not only for its loyalty to romantic-classical style, but also showmanship and Caribbean flair.
"There's a warmth in the way Cubans dance," technical director Salvador Fernandez said in the lobby during the pre-show talk. And it's true.
Audiences at the Royal Theatre got what they were promised Friday night.
The show opened with a neo-classical original In the Shades of a Waltz by ballet czar Alicia Alonso, the
91-year-old prima ballerina assoluta who created the company in 1948 and continues to rule it, despite old age and near-blindness. Smiling women moved gracefully in ruffled and layered dresses, guided by abiding partners in coattails and neckties. Other neoclassical pieces included Alonso's Dialogo a 4 and Eduardo Blanco's Idilio. Tilted heads, wide smiles and delicately bent arms exuded the femininity synonymous with classical ballets. Tutus and tiaras, there were.
Though created much more recently, they fit well with The Nutcracker suite. The adage to the second act of Swan Lake, which was initially scheduled, was absent from the program.
At the same time that the Ballet Nacional declares a love for classical-romantic style, it also claims a commitment to contemporary creation, inviting visiting choreographers for collaboration, as well as creating new works.
The original pieces on display tonight, however, still leaned toward the classical — perhaps giving creedance to the statements of dancers who have left the company. Elier Bourzac, who defected after the Ballet Nacional performed in Eastern Canada last March, told the Montreal Gazette that one of his motivations was artistic — he felt he'd reached his potential in classical ballet and "in Cuba, it's exclusively classical dance."
While Acentos, by young Cuban choreographer Eduardo Blanco (one of two on staff at the Ballet Nacional, along with Alonso) was unquestionably the most contemporary piece of the night, the departure from classical wasn't enormous.
Yes, there was techno music. Yes, there were five men on stage, infused with machismo and bravado — puffed chests and all. Here's the theatricality we've been promised, demanding audience applause for each feat.
The costumes were a bit unusual — they began in what appeared to be overall- and hoodie-inspired wardrobe, which they peeled off to reveal matching black tights. And there was a break-circle of sorts, as they took turns peacocking, competing in athletic feats of leaps and countless spins.
But there were still the pointed toes, the careful lines and techniques. Their tricks were still pirouettes and traditional leaps.
The show-stealer of the night was principal dancer Osiel Gounod, during his solo in the show finale of the Don Quixote suite, a piece that also allowed dancers to flex their acting muscles. He made inhumanly high and controlled leaps that looked effortless. And his spins were so speedy that I lost count at 27 in a row.
Though the dancing was impressive, the music and sets were not.
When there were sets, they were wallpaper-like backdrops.
As ballet trends toward the more avant-garde and contemporary, electronic scores have appropriately replaced live orchestras. But in cases like this, dominated by classical music, there's something significant lost in the absence of a live orchestra.
asmart@timescolonist.com
We thought you might also be interested in..