Opposition to orca tagging gathers pace
Feb 04 2012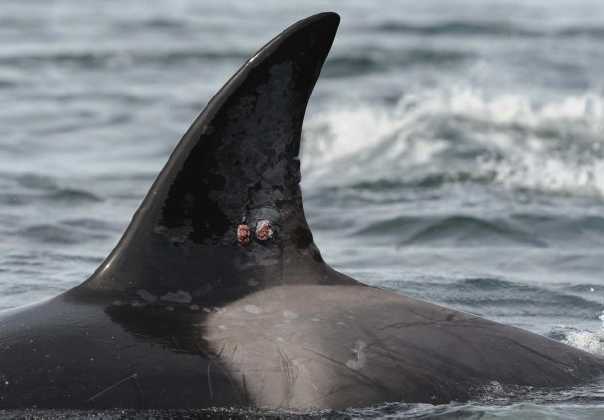 Wounds can be seen on the dorsal fin of a transient killer whale after a satellite tag fell off.
Photograph by:
Submitted photo, .
Canadian opposition is growing to a U.S plan to attach satellite tags to endangered southern resident killer whales.
The 89 whales, from three pods, spend much of their time in the water between southern Vancouver Island and Washington state. Little is known about their winter movements and the U.S. federal government has given approval for researchers to tag two whales from each pod.
Information from the GPS tags will give vital information about where the whales spend their time and will help identify critical habitat areas, said Brad Hanson, wildlife biologist with the U.S. National Oceanic and Atmospheric Administration, who is leading the tagging program.
But members of the whale-watching industry and environmental organizations are worried that the tags could harm the whales and are questioning why the U.S. made a unilateral decision without consulting Canada.
"The nominal information that might be generated from deploying these invasive tags to the fins of endangered killer whales simply does not justify the risk of serious injury resulting from the tags," said Raincoast Conservation Foundation biologist Misty MacDuffee.
Information about the whales' travels is meaningless on its own as it does not provide any understanding of food supply or feeding depths, she said.
Raincoast science director Chris Darimont agreed that the risk to individual and population health from invasive research is too high.
"We would all like to know more about the movement of killer whales, especially during the winter, but these tags are unlikely to provide that information on their own," Darimont said.
"This is a small, exceptionally vulnerable population of whales where the loss of individuals from any ensuing infection could have broader implications," he said.
Dan Kukat of Springtide Charters, a Victoria whale-watching company, said risks to the whales go beyond a scar on their dorsal fin or a scratch through the blubber layer.
"In the worst case, it could be lethal," said Kukat, past-president of the Pacific Whale Watch Association.
Southern residents bear a huge load of toxins in their bodies, from contaminants such as fire retardants, and that weakens their immune system, Kukat said.
"Because of that, they sometimes can't fight a small bacterial infection. You are putting the animal at the ultimate risk."
The risk is illustrated by the death several years ago of J-38, Kukat said.
A necropsy indicated that the whale had a bacterial infection that he could not fight because chemical toxins had depressed his immune system.
The NOAA decision to approve tags seems to be based on finances as it is more expensive to do non-invasive, boat-based research in winter, Kukat said.
However, Hanson, who has previously safely tagged 16 different species, including transient killer whales, insists that the tags are safe.
The attachment is about the size of a nine-volt battery, with two retention darts, and usually remains on the dorsal fin for one to three months.
Fisheries and Oceans Canada is not taking an official position on the tagging, but says there is no plan to follow suit and Canadian research on the endangered whales relies on observation.
jlavoie@timescolonist.com
We thought you might also be interested in..