Victoria man who broke camping ban jailed
Feb 04 2012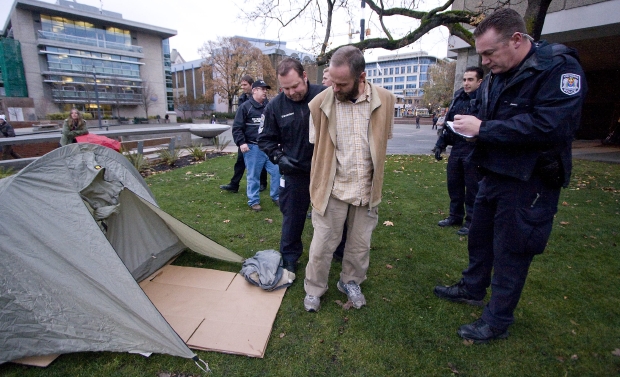 Police arrest David Arthur Johnston in this file photo from 2009 for violating court-ordered conditions by erecting a tent in Centennial Square during the day. Ci
Photograph by:
Debra Brash, Times Colonist
David Arthur Johnston has received another 60-day jail sentence for pitching a tent in Centennial Square for four days earlier this week.
This time, however, Johnston will undergo a court-ordered psychiatric evaluation during his time in jail.
Johnston, who refuses to eat when he is custody, was arrested Thursday and charged with four counts of breaching a court order not to be within 50 metres of Centennial Square for a year and not to pitch a tent anywhere in the city for one year.
The order was imposed Nov. 2 last year by Judge Michael Hubbard. During that same court appearance, Hubbard sentenced Johnston to 60 days in jail for joining in the Occupy Victoria protest, which was a breach of Hubbard's December 2010 order not to pitch a tent in Centennial Square for one year.
On Friday, Johnston pleaded guilty to four counts of pitching a tent in Centennial Square from Jan. 30 to Feb. 2.
City of Victoria lawyer Troy DeSouza told Judge Loretta Chaperon that Johnston has said he is prepared to die in jail by going on a hunger strike.
"The city is not interested in making Johnston a martyr," DeSouza said.
"Martyrdom has its purpose," Johnston replied.
At that, DeSouza asked that Johnston undergo a psychiatric assessment. Chaperon made the order for an evaluation.
Johnston did not oppose the assessment.
ldickson@timescolonist.com
We thought you might also be interested in..