Saanich police arrest man accused of stealing 159 guns
Feb 07 2012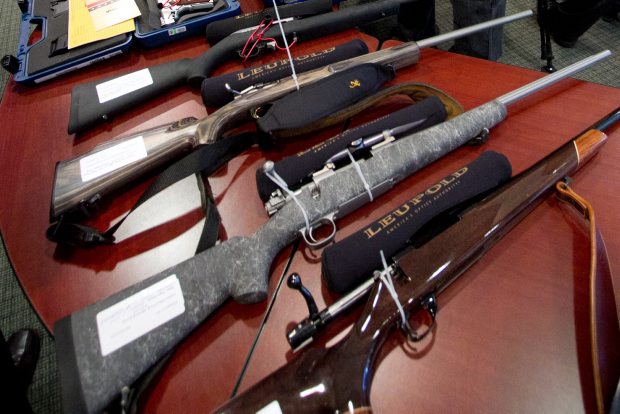 Sgt. Dean Jantzen, Saanich Police conducts a press conference regarding a major firearms seizure in Victoria, B.C. February 6, 2012.
Photograph by:
Darren Stone, timescolonist.com
Saanich police have arrested a manager at Island Outfitters who is accused of ordering 159 guns through the store's inventory and stealing them for his own personal collection.
The 40-year-old Saanich man was arrested Thursday and a search of his Shelbourne Street residence later that evening turned up a cache of 159 guns; everything from rifles, to shotguns, to Glock pistols, antique revolvers, a semi-automatic assault rifle and a collectors-edition Desert Eagle handgun.
Saanich police seized the guns, which combined are worth at least $250,000, and showed them off at a press conference Monday morning.
Police also seized 400 boxes of ammunition, crossbows, and fishing and hunting paraphernalia, all of which they believe to be stolen.
Police were tipped off by the store owner on Thursday afternoon, after inconsistencies in a year-end audit led the store owner to suspect a massive theft, said police spokesman Sgt. Dean Jantzen.
The man worked at the store for about five years and was a "long-term, trusted employee" who had access to the store's keys and inventory system, Jantzen said.
"The store is the victim of an unscrupulous scheme here to divert these [firearms] from their lawful, legal stock," Jantzen said.
Island Outfitters is a popular outdoor sporting goods store which sells guns, crossbows, and hunting and fishing equipment.
Store co-owner Darren Wright said for a small business like his, a loss of a quarter of a million dollars in merchandise over four years "destroys us."
"It's very hard. I'm just a small business owner trying to make a living and trying to find out why you're not making any money and someone is stealing your stuff."
Police are still cataloguing the guns but don't believe any of them have been sold to third parties.
"We don't have information any [of the guns] have been diverted to illicit use," Jantzen said.
It appears the man kept the guns as a personal collection and some of the guns have never been fired, Jantzen said.
Most were stored in proper safes or cases but some were stored unsafely.
Police say the remarkable thing about this case is that all the guns were registered through the long-gun registry. It appears the man allegedly doctored the registration forms after he ordered the guns through the store to make it look as if he bought them.
Police praised the long-gun registry as a valuable tool in tracking and accounting for all the weapons.
"Access to the long-gun registry has been critical to advancing the speed of this investigation," Jantzen said, who added it all went down in a matter of 24 hours.
The man has a firearms licence and no criminal record. Jantzen said there is no restriction on how many firearms one can own.
Jantzen said there could have been a huge risk if this person's home was broken into.
The self-described gun enthusiast is well-known in the local gun owners and hunting community and is a firearms instructor, Jantzen said.
Jantzen said police were assisted by the RCMP's national weapons enforcement team and chief firearms officer.
The man has yet to be charged but is facing weapons-related charges and theft over $5,000. The man was released on a promise to appear and his name has not been released.
kderosa@timescolonist.com
We thought you might also be interested in..