Parents camp out overnight on steps to register kids for nature kindergarten
Feb 07 2012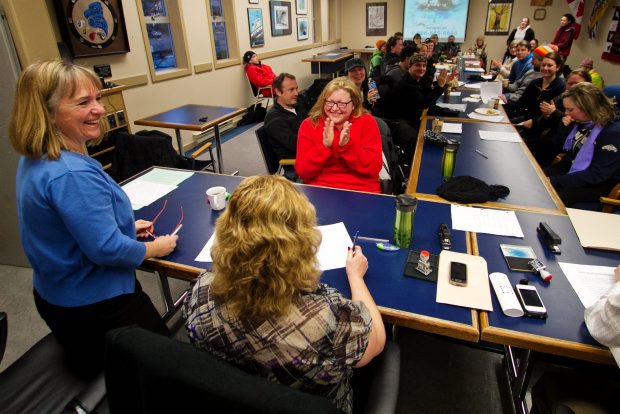 Maureen Lauren, left, talks to parents as they register for the Sooke School District's nature kindergarten program.
Photograph by:
Darren Stone, timescolonist.com
The first people to experience the great outdoors as part of a new nature kindergarten program on the West Shore turned out to be the parents.
Moms and dads camped out on the steps of the Sooke School District office in freezing temperatures overnight Sunday to get a crack at the 20 classroom spots up for grabs.
By 9 p.m., more than a dozen parents were in line — 11 hours before registration was slated to begin Monday morning.
"If the parents can't do it, then the kids have no business doing it, right?" Gretchen Crane said, laughing. She was bundled against the cold to make sure her four-year-old daughter, Tegan, got a seat in the class.
Not that Tegan will spend much time sitting if she's accepted into the program. Students in nature kindergarten, which begins next September at Sangster Elementary in Colwood, will spend their mornings, rain or shine, hiking the forests at Royal Roads University or combing the beaches of Esquimalt Lagoon, learning about plants, animals and the environment. They'll return to school for more traditional indoor learning in the afternoon.
"It sounds like completely what my son would love to do and love to be part of, and what we would love for him," said Kim Meadows, who was first in line at 3:15 p.m. Sunday.
"We're such an outdoorsy family. We camp and hike and go outside and he's a tree-climber, beachcombing, forest-hiker kind of boy."
The two-year pilot project is modelled after "forest preschools" that began in Scandinavia and spread to other parts of Europe, Australia and New Zealand.
Frances Krusekopf, district principal of curriculum and programs, got interested in the concept after enrolling her son in one of the schools while in Germany on sabbatical in 2010.
She was intrigued, she said, by the hardiness of the students, their joy at being outdoors, their disregard for the weather and their willingness to hike long distances without complaint.
It was also a time when B.C. was moving to full-day kindergarten, and Krusekopf began pondering the idea of importing the successful European model.
Indeed, she said German parents and teachers were amazed that forest pre-school programs did not already exist in Canada.
"They said, 'How can you not have them? Your country is full of unexplored nature.' "
Once back home, Krusekopf teamed up with Enid Elliot, an early childhood educator at the University of Victoria, who has studied forest preschools and the health and education benefits for children by the time they reach regular school.
"They find that children come in with confidence," she said. "They see themselves as learners, and they're ready to tackle the more narrow academic focus that is required of them."
Elliot said UVic, Camosun College and Royal Roads University have joined forces and applied for research money to study the Sooke program.
"Programs have been going in Sweden and Norway and Germany for 30 or 40 years," she said. "It would be great for people to start seeing that this is something that probably Canadians would really get behind."
The Sooke program received early donations from the B.C. government's Growing Innovation fund, RBC Foundation and TD Friends of the Environment Foundation. The money will go toward the cost of an early childhood educator to work with the kindergarten teacher.
The district is also seeking donations to ensure students have proper clothing and footwear for all weather conditions.
Families will receive letters later this month confirming their child's registration. In addition to the 20 spots dispensed Monday, the district has reserved two spots for aboriginal students to reflect the region's demographics.
lkines@timescolonist.com
We thought you might also be interested in..