Greater Victoria building permits plummet
Feb 08 2012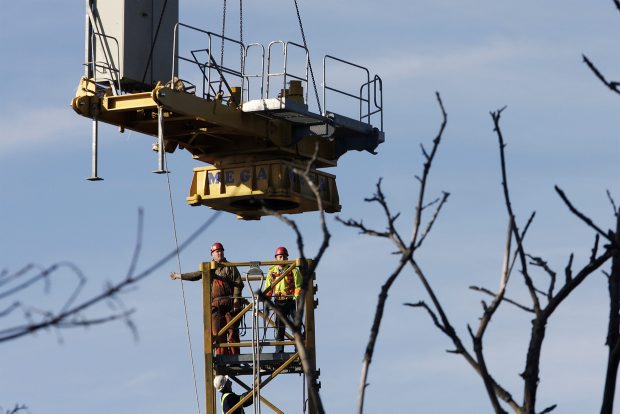 Workers assemble an overhead crane on the site of the Songhees Wellness Centre on Admirals Road Tuesday. The $13-million, 35,000-square-foot facility will include a 350-seat gym as well as a fitness centre and conference centre.
Photograph by:
Lyle Stafford, timescolonist.com
The total value of building permits issued in Greater Victoria dropped by more than $120 million last year as homebuilders waited out the harmonized sales tax and the non-residential construction sector waited for the overall economy to improve.
Figures released by Statistics Canada showed the region saw $648 million worth of building permits issued last year, down from $769 million in 2010.
The value of residential permits dropped to
$427 million from $497 million in 2010, while non-residential permits amounted to $221 million, down from $274 million in 2010.
In December, Victoria saw a total of $32.5 million in building permits —
$21 million in residential and $11 million in non-residential — down 26 per cent from the $43.8 million in November and down 58 per cent from December 2010.
Casey Edge, executive director of the Canadian Homebuilders Association Victoria, blamed the quiet year on the harmonized sales tax.
"Until there is some kind of relief from the HST, we will be challenged in this market," he said.
"The numbers are tough, but the reality is that in Greater Victoria in 2011 our single-family housing starts were the lowest in a decade," Edge said
He added that shouldn't be the case when interest rates remain low and the city maintains a low unemployment rate.
Edge said with the province now not planning to kill the tax and reinstate the PST and GST system until March 2013, homebuilders will wait it out and single-family home construction in Victoria and Vancouver will suffer.
The HST adds significantly to the cost of a new home priced in excess of $525,000, a threshold most single-family homes in Victoria and Vancouver easily cross. Previously exempt from provincial sales tax, new homes are subject to the combined HST. Purchasers of new homes costing up to that $525,000 threshold are eligible to receive a rebate of 71.43 per cent of the provincial portion of the HST, up to a maximum of $26,250.
"The uncertainty was created by the referendum [which killed the tax]. If you have a tax in place and people know they have to pay it, you have tax certainty. But when you create an environment where consumers understand the tax will leave at some point, they will wait," Edge said.
As a result the CHBA is expecting flat growth in home construction for 2012.
Homebuilders are hoping there may be some HST relief in the Feb. 21 provincial budget.
The non-residential sector is looking ahead with some optimism for a turnaround this year. Despite a flat market in the final quarter of 2011, the Vancouver Island Construction Association has noted there are plenty of projects in the pipeline and construction activity is expected to pick up.
Overall, the Canadian housing market saw a bit of an upswing in December with an 11 per cent increase in permits issued.
Statistics Canada said permits issued nationally in December were worth
$6.8 billion, the highest level since June 2007.
In the residential sector, the value of permits rose 16.1 per cent to $4.5 billion. It was the second consecutive monthly increase. Ontario accounted for much of the growth, the agency said. In the non-residential sector, the value of permits grew 2.8 per cent to $2.4 billion in December, following a 15.1 per cent decline in November. Alberta posted a large increase, which offset declines in most provinces."
Tuesday's permit data kicked off a trio of housing-related reports this week. Today, the Canada Mortgage and Housing Corp. releases its report on housing starts in January, followed the next day by the new house price index for December from Statistics Canada. Consensus expectations are for starts to fall by about four per cent, while prices are expected to be up 0.2 per cent from November — "nothing to get excited about," according to Benjamin Reitzes, senior economist for BMO Capital Markets.
aduffy@timescolonist.com
We thought you might also be interested in..
Notice
: Undefined index: event in
/home/viccity/public_html/v2/content.php
on line
67