New seafloor sensors could help predict quakes, tsunamis
Feb 08 2012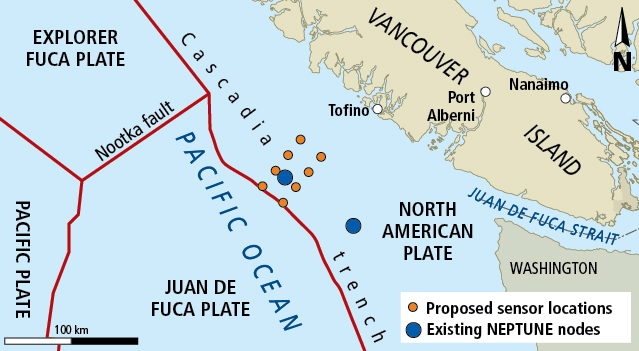 .
Photograph by:
., timescolonist.com
Science will have a front-row seat to the next great Cascadia mega-thrust earthquake off the west coast of Vancouver Island thanks to an $1-million initiative by American researchers.
Jeff McGuire, an expert in global earthquake seismology, is working with colleague John Collins to build and install the first seafloor geodetic observatory above the expected rupture zone of the next great Cascadia earthquake.
The researchers are based at Woods Hole Oceanographic Institution, a private organization in Falmouth, Massachusetts, dedicated to marine research, engineering and higher education.
"We're very excited about this," McGuire said Tuesday. "As far as I know, this is the only real-time seafloor geodetic observatory in the world and it will be quite an achievement to pull this off."
Almost all earthquakes happen underwater and Woods Hole has been building scientific instruments to go on the seafloor for decades, McGuire said.
"We're quite good at it and we have a very active program investigating earthquakes all over the place," he said.
The sensors, including highly sensitive "tilt meters," will be plugged into the NEPTUNE Canada (NorthEast Pacific Time-Series Undersea Networked Experiments) cabled ocean network, a University of Victoria initiative that provides Internet access to scientific equipment along the ocean floor off Vancouver Island.
More data will be collected from a hole drilled 300 metres below the ocean floor by researchers at the Institute of Ocean Sciences in North Saanich.
"We are adding sensors that can sense the deformation of the Earth," McGuire said.
It is hoped the new data will allow researchers to predict the big earthquake and give residents in vulnerable coastal communities time to escape a tsunami.
"Any time one of the faults nearby moves, the deformation sensors will pick it up and, hopefully, they will pick up the long-term loading of plate tectonics which is building up strain for the next earthquake," McGuire said.
"One big question we hope to look at is how far offshore strain is building up."
There are challenges to predicting which earthquakes will trigger tsunamis, McGuire said. Some moderate earthquakes trigger large tsunamis and these often happen in the shallowest part of subduction zones.
"If you're just recording the shaking from onshore, your estimate of how big the tsunami is will be too small in these types of earthquakes," he said.
The offshore sensors will provide more accurate information on the size of tsunamis than had been previously available, McGuire said.
The earthquake that hit Japan last March surprised researchers because the fault rupture occurred farther offshore than expected.
McGuire would like to see the project expanded to measure changes along the entire Cascadia faultline.
"It would be great if this project emphasized the need for that and it led to something larger."
Installation is scheduled to occur in the summer of 2013.
smcculloch@timescolonist.com
We thought you might also be interested in..