Clark seeks fixes for B.C. court system
Feb 09 2012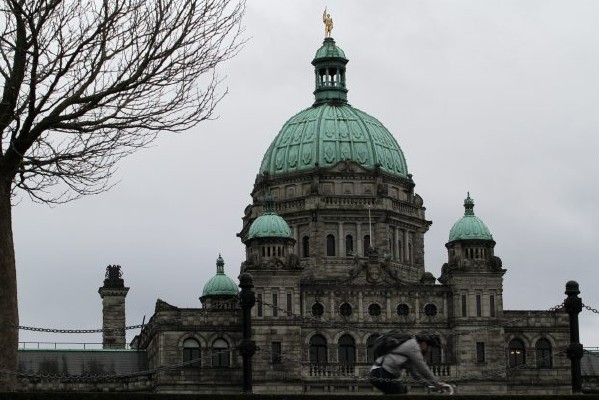 Christy Clark merged the ministries of Attorney General and Solicitor General into a new Justice Ministry
Photograph by:
Lyle Stafford, timescolonist.com
Premier Christy Clark is promising sweeping changes to B.C.'s troubled justice system by this fall, a move critics say is just a delay to avoid real solutions — and new funding — for another year.
Clark announced a review of B.C.'s court system Wednesday that, she said, will be finished within five months and turned into legislative changes by the end of the year.
"Caseloads are falling, crime is falling, more money has gone into the system and yet delays and stays are increasing," said Clark. "It just doesn't add up, and we've got to get to the bottom of that."
The number of criminal and youth court cases stayed by judges on Vancouver Island has tripled since 2010. Across the province, judges have thrown out twice as many cases during the same period. The length of time it takes a person to get to trial continues to rise.
Judges and lawyers have blamed government underfunding and a shortage of judges and court resources. The government insists it has increased criminal justice spending by hundreds of millions of dollars, though critics note it has also closed or downsized 24 courthouses as well.
The court crisis is the fault of a Liberal government's 11 years in power, said Opposition NDP leader Adrian Dix. By ordering yet another justice review — the last was in 2007— the premier can avoid putting new money into the Feb. 21 provincial budget, he said.
Next year's budget will be three months before the May 2013 provincial election. Clark ruled out more money until the review is complete, saying she will not blindly increase funding without long-term solutions. She appointed Vancouver lawyer Geoffrey Cowper to chair the review. It will be based on a "green paper" released Wednesday, written by a group of deputy ministers who oversaw an internal audit of the justice system.
The audit painted a critical picture of the Solicitor General and Attorney General ministries, saying they lacked an overall plan for the justice system, failed to co-ordinate funding and could not track time or resources.
In response, the premier merged them into a new Justice Ministry, headed by Shirley Bond.
Responsibility for gambling and liquor goes to the Energy Ministry, and the Insurance Corporation of British Columbia moves to the Finance Ministry.
Among the most contentious items in the review will be a look at whether B.C. should follow the lead of some other provinces and allow police officers to directly swear charges against people.
Currently, police take their case to independent Crown prosecutors, who weigh the evidence and decide the public interest and likelihood of conviction before laying charges.
Former Alberta chief prosecutor Gary McCuaig is tasked with exploring which system would be better for B.C.
Prosecutors don't agree with giving police charge approval powers, said Samiran Lakshman, president of the B.C. Crown Counsel association.
The government should add more judges and prosecutors now to ease the case backlog, not wait until the review is finished in July, he added. "It's just untenable to continue on this pace," said Lakshman.
Sharon Matthews, president of the B.C. Branch of the Canadian Bar Association, echoed the call for immediate funding, saying even the best reforms in the world, implemented months from now, will not fix a crisis caused by underfunding.
The government review is also set to redefine the independence of judges and lawyers, who, by law, operate without government interference. The deputy ministers suggested respecting that independence, but possibly limiting it to allow for efficiencies within the system.
The top judges in B.C.'s three levels of court issued a statement welcoming the review, but warning that the system "is founded on an independent judiciary."
The review is also set to explore how to better schedule court time and trials. Another area to be examined is the Legal Services Society, which provides legal aid but has been cut by at least 25 per cent since 2001.
NDP justice critic Leonard Krog said it is "a bit like asking a corpse to sing" to find efficiencies in what's left of legal aid.
rshaw@timescolonist.com
kderosa@timescolonist.com
We thought you might also be interested in..