2011 census: Booming West Shore accounts for 75% of Greater Victoria's population growth
Feb 09 2012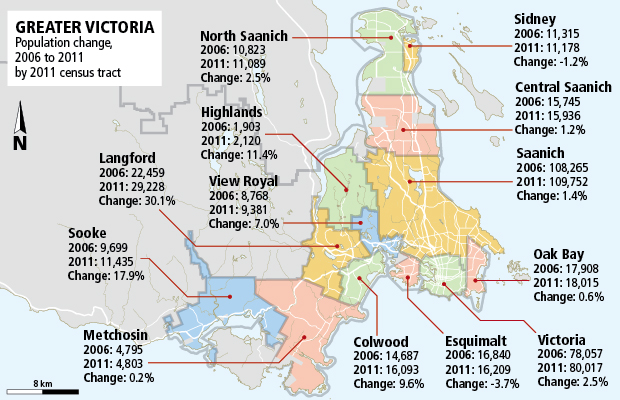 .
Photograph by:
., timescolonist.com
Booming populations in the West Shore account for 75 per cent of growth in Greater Victoria, according to the latest census from Statistics Canada.
Figures released Wednesday confirm the vast majority of people coming to the region are landing in five West Shore communities with Langford leading the way.
Langford is the fastest growing census area in the province with a population jump of 30.1 per cent since the 2006 census. Metropolitan Victoria remained Canada's 15th largest city with a 4.4 per cent increase, nudging the population to 344,615.
Greater Victoria grew by 14,527; nearly half of that growth, 6,769, was in Langford.
"These numbers put an emphasis on what people have been saying already: The western communities are where growth has been occurring the most," said Larry McCann, geography professor at the University of Victoria, whose research focuses on urban planning. "What we're seeing emerge in (Greater) Victoria are the new growth points, like Langford and Colwood or Saanich's new (Uptown) Centre, and these areas are going to compete with existing (urban) nodes."
B.C. stood out in the census with its 4.4 million population, the second-fastest growing province in the country behind only Alberta, which grew 10.8 per cent to 3.6 million.
Canada's population went from 31.6 million in 2006 to 33.5 million people in 2011, making it the fastest-growing country of any G8 nation.
Among the six West Shore municipalities, Metchosin achieved its goal of maintaining minimal growth with a population increase of just eight people, inching its way to 4,803.
Growth in the surrounding communities has created traffic congestion problems. The Colwood Crawl remains a headache for commuters, planners and politicians, and solutions need to come soon, said transportation consultant Chris Foord, who supports building a light rail transit line.
"The numbers tell us it's time we embark on some bold projects that will serve us for the next 50 or 100 years," he said. "The numbers are going to get larger every year. It's a horrendous waste of time to have people waiting hours in their cars."
Sooke had the second largest population growth rate in the region at 17.9 per cent. Mayor Wendal Milne said he is concerned about additional protective services costs as the population grows. Police and fire costs are traditionally borne by taxpayers, he said, so council will have to get innovative if it wants to reach an ongoing goal of freezing tax rates to last year's levels.
Census population numbers are about 1,000 people short of what Langford Mayor Stew Young expected for his city.
Young said he wants to see population growth continue at a rate between four and six per cent a year in the next five years. He said and his council has transformed Langford in the past two decades and the population is a testament to that success.
"We've come a long way. We didn't even have sidewalks or street lights 20 years ago," he said. "People used call us 'dogpatch' and all that, but Langford is a new place. People want to live and work here. "
Throughout Greater Victoria, Oak Bay also maintained a near status quo population, bumping up slightly to 18,015 for a 0.5 per cent increase. Two municipalities saw population drops. Esquimalt slid 3.7 per cent to 16,209, while Sidney fell to 11,178, a 1.2 per cent decrease.
dspalding@timescolonist.com
We thought you might also be interested in..