Renovation creates home for needy
Feb 10 2012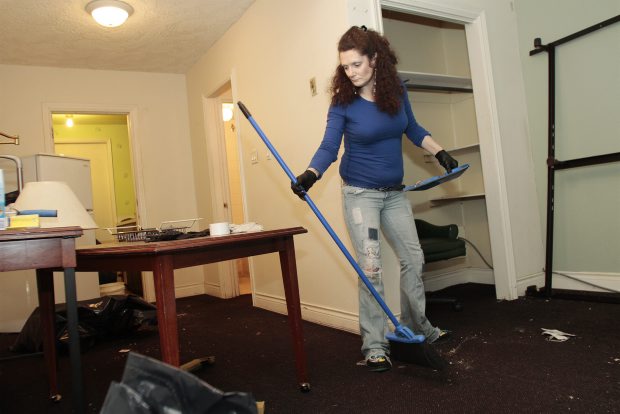 Bonnie Frederick cleans the living area of a room at the Queens Manor.
Photograph by:
Lyle Stafford, timescolonist.com
A smell of disinfectant permeates the room at Queens Manor, where Bonnie Frederick is sweeping unidentifiable pieces of garbage off the carpet.
"It's going to look really nice when it's finished," said Frederick, a former Queens Manor resident, who is helping prepare 36 units in the former Traveller's Inn for renovations.
The building on Queens Avenue, just off Douglas and Bay streets, was bought by the city in July 2010 and rooms were opened as lowbarrier housing for people who have been homeless for years.
Now, a $1.5-million renovation project is underway and will transform the down-at-heel motel rooms into studio suites.
"Eight months from now, this will look like a brandnew apartment building with 36 happy, formerly homeless people," said John Crean, housing manager for the Cool Aid Society, which operates the building.
Frederick left an abusive relationship to live in a shelter, then moved to Queens Manor and is now in Cool Aid housing with less support. For her, the old motel was an essential stepping stone, despite the beaten-up drywall and - in some units - graffiti-covered walls.
"Now I am doing really well, so I don't need so much support," she said.
The units will be an average of 400 square feet and, along with the new kitchenettes, flooring and electric heat, will have two support workers on duty 24/7.
The $480,000 annual operating costs will be picked up by B.C. Housing.
"It's not good enough to throw up four white walls around people who have been marginalized for years and years. It's going to take time for these people to get themselves together," Crean said.
Many tenants have been homeless for five to 10 years, he said.
The rooms will be renovated one floor at a time, meaning tenants can be moved within the building.
"It's going to be done in nodules. None of these people are returning to the street," Crean said.
Tenants are referred by local agencies and are selected on the basis of need, Crean said.
"There is not a chronological waitlist. . . . We identify people on the street that need this resource and have a good chance to succeed," he said.
Queens Manor was bought at the same time as a Gorge Road Traveller's Inn, which will be turned into social housing for First Nations families.
An announcement will be coming shortly on the Gorge Road property, but it was decided the Queens Manor renovations should be completed as soon as possible, said Victoria Mayor Dean Fortin.
The two former motels, which cost $5.6 million, are a critical piece of the plan to end homelessness in Victoria within seven years, Fortin said.
"Wouldn't it be the coolest thing in the world to see Victoria stand up and say we are the first city to end homelessness?" he asked.
"This is going to be a landmark that is going to shine for us."
It is cheaper to house people than to allow them to live on the street, drawing on health care and social services, which is one reason the city is investing in housing rather than more shelters, Fortin said.
"Every study in North America has proved that providing homes for people is much cheaper than leaving them on the street," Crean said.
The cost of the renovations to Queens Manor are shared between the city, Capital Regional District, B.C. Housing, Canada Mortgage and Housing Corp. and the United Way of Greater Victoria.
jlavoie@timescolonist.com
We thought you might also be interested in..