Culture clash over a memorial park bench
Feb 11 2012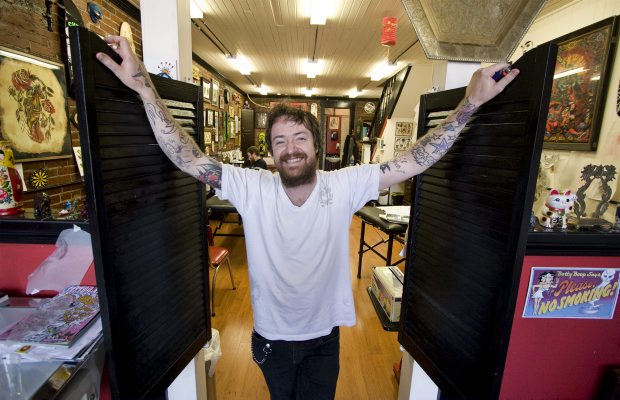 James (Jamer) Lindsay: The pioneering skateboarder died last month at age 38.
Photograph by:
Darren Stone, timescolonist.com
Friends of a local skateboarder say Victoria bureaucrats are missing the point in denying their request for a memorial bench at Vic West Skateboard Park.
James (Jamer) Lindsay, who died last month from a drug overdose, was instrumental in the campaign to convince the city to build the skateboard park.
In turning down the bench request, city officials said it would likely be a high-maintenance item.
"It just made me so sad," said Shannon Ferguson, who has been leading an effort to raise $2,500 for the bench. "In my heart I thought, 'Oh my gosh, so many people have come together to make this happen, and now the city can just say no because skateboarders are hooligans,' which is what, in the back of my mind, it felt like."
The reason given for the denial was that a bench installed at the skate park would be skated on and covered in graffiti, she said.
But that's exactly the point, said Jake Warren, a longtime friend of Lindsay's and a fellow skateboarder.
"I think the intention was that the bench would be another obstacle to actually be skated. The intention was to have something engraved or some writing on it but that Jamer would want that to be skated," Warren said.
Graffiti also is part of a skateboard park, he said. "If you look at any of the big skateboard parks around the world, murals and artwork - let's not even call it graffiti, let's call it artwork - is a huge part of the culture," he said, noting that Lindsay was a graffiti artist when he was younger.
City officials said the park could use a bench but they would rather see it located in the playground area. Ferguson, who is donating half the cost of the bench herself, is willing to pay the $500 maintenance fee on top of the $2,500 bench cost.
Coun. Pam Madoff said the city should be able to find a creative solution. She encouraged the bench organizers to bring the request to her or Victoria council.
"If that was the concern, why couldn't we design a bench with graffiti on it and let them participate in the crafting of it? That's something I would be willing to pursue," Madoff said.
She suggested the bench potentially could be "designed in such a way that it's meant to be skated, and maybe it could even have graffiti that's actually pressed into the concrete."
Lindsay, who died at age 38, was one of the city's earliest street skaters. He turned a youthful interest in graffiti art into a budding career as a tattoo artist.
A silent auction to raise money is ongoing at Hive hair salon. Any extra money will be donated to AIDS Vancouver Island addictions awareness programs. bcleverley@timescolonist.com
bcleverley@timescolonist.com
We thought you might also be interested in..