Family and school share Tessa's joy over award
Feb 11 2012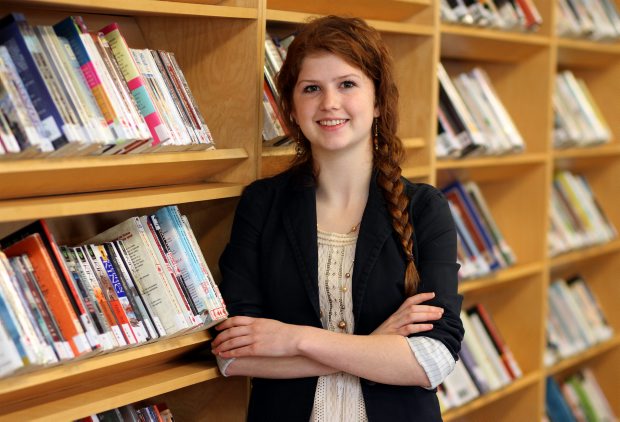 Tessa Charlesworth is one of only 30 recipients of the Loran Award.
Photograph by:
Bruce Stotesbury, timescolonist.com
The telephone rang at 7 a.m. and the caller apologized for the early hour.
They need not have worried.
Even as a child, Tessa Charlesworth was out of bed by 6 a.m., feet hitting the floor - boom! - above her mother's home office.
"Then she'd run downstairs," Jennifer Charlesworth recalls. "She's always had a ton of energy."
So, yes, Tessa Charlesworth was already up and going when the call came this week to say that she had won Canada's prestigious Loran Award, the country's top scholarship for high school students.
The 17-year-old was one of just 30 recipients selected from thousands of students vying for the prize, worth up to $75,000.
The news thrilled not just Tessa's family, but classmates, teachers and staff at Esquimalt High School, where she has been in the French immersion and Challenge programs for the past four years.
"It's a huge accomplishment," said Allyson Hoffman, a school counsellor. "I would say it's the equivalent to what the Rhodes scholarship would be for high school students."
If they were excited, few were surprised. The Loran selects students on the basis of character, service and leadership.
"She has it all," school counsellor Pat Bohaker said. "Honestly. I'm not just saying that. She has it all."
Besides posting a 98 per cent average throughout most of her time at Esquimalt - she's actually a percentage point higher than that this year - she's an accomplished dancer and choreographer. But it's her service work at school, in the community and overseas that inspires.
She's a member of the school's leadership program, the environmental stewardship program, the peer tutoring program and Esquimalt Students Caring About Peace and the Environment. She's been part of the Victoria International Development Education Association since age eight, and spent nearly a month in Zambia with her family working with vulnerable children.
Always driven, Tessa credits her mother, teachers and older sister for helping to shape her passion for learning and public service.
"You can't sit at our dinner table and not have social justice conversations," said Jennifer Charlesworth, executive director of the Federation of Community Social Services of B.C. "But that came from my parents as well. One of the things my mom used to say is, 'The price we pay for the gift of being on this earth is service.' "
But Jennifer also credits Esquimalt High for playing a key role in shaping the lives of both her daughters.
"My older daughter went to the Challenge program and it changed her life," she said of Katherine, who is now studying opera in San Francisco.
"And Tessa, too, has just blossomed. Tessa's always been a strong student and hard worker and things like that, but Esquimalt took it over the top. It's an amazing place."
Jennifer describes the school as a "joyful place," safe and inclusive, rich in diversity and blessed with caring and devoted teachers. "It's kind of a can-do attitude," she said. "They don't get held up by the rules. They look to what is going to create the conditions for the kids to be their finest selves."
Having been there four years, Tessa said she would not change schools for anything. "I would never go anywhere else," she said.
"It's such a great school."
That's for now. She is, however, going places, her teachers say. She dreams of becoming an architect and has her eye on a couple of post-secondary schools that will help her get there. She'll do fine, her teachers say.
"The Loran chose really, really well," said Bohaker.
"This is a girl who we'll hear about. We'll all follow her progress with considerable interest and pride."
lkines@timescolonist.com
We thought you might also be interested in..