Boss leaves restaurant amid scandal
Feb 11 2012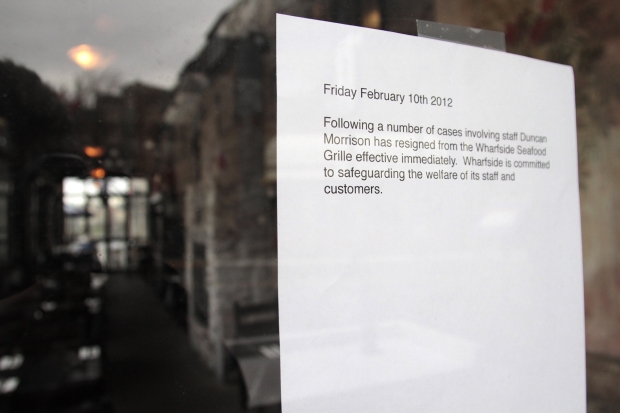 A notice taped to the window of Wharfside on Friday states operator Duncan Morrison has left the restaurant.
Photograph by:
Lyle Stafford, Victoria Times Colonist, Friday, Feb. 10, 2012
Duncan Morrison has packed up his office and is no longer running the downtown Wharfside Seafood Grille, saying Friday he is leaving immediately for Calgary for a "clean, fresh start."
Morrison left the restaurant at 1208 Wharf St. in the wake of media attention around 20 complaints to B.C.'s employment standards branch from former staff who said they had not been paid for the work they've done.
It isn't the first time Morrison has clashed with employees. Over the past 17 years, more than 110 complaints have gone to the employment standards branch in connection with various companies involving Morrison in either ownership or management roles.
Morrison told the Times Colonist on Thursday that he was leaving Victoria.
"I told you I was leaving," he reiterated Friday. "It just happened a little sooner than anticipated."
He said leaving Wharfside was due to a "combination of factors. The point is, I'm gone and I'll be off to Calgary as soon as I can get a flight."
As for his future, "It will be absolutely nothing to do with this industry — [it's a] clean, fresh start," he said.
A number of investors own the Wharfside business, Morrison said. "There are several people who are going be coming in there ... They are going to sort out what they are going to do, and I am going to sort out what I am going to do." Morrison said he is not an owner but managed the restaurant.
A man who answered the telephone at the restaurant Friday said, "Mr. Morrison does not work here anymore. He tendered his resignation this morning. He is no longer part of this restaurant whatsoever. He packed up his office this morning, and he is gone."
The man, who would not identify himself, said that he was "helping out" and that the aim was to get everything dealt with regarding unpaid staff.
Former Wharfside cook Beric Ofori, who said he is owed $3,000 from working at the restaurant last year, said he intends to file a complaint with Victoria police today.
Beric is organizing a protest at 11 a.m. Monday outside the restaurant. "I think they should just close it down."
He said that one of his paycheques bounced and that payment was stopped on two others.
Monte Shea, who said he worked briefly as a trainer on touch-screen cash registers at Wharfside shortly after it opened, said that when paycheques were issued, "there was a blazing trail of fire to the bank." Staff rushed to ensure their cheques could be cashed, he said.
Wharfside is in the Hartwig Court building, owned by local businessman Cedric Steele. His assistant, Ken Pfister, said "their obligations to us as the landlord are current, and we have no other issues."
Morrison has been a fixture in the Victoria hospitality industry for more than three decades, capturing attention by opening the New York New York disco on Yates Street in 1979 while in his mid-twenties, when he also owned the James Bay and Dominion hotels. Later, he owned the English Inn in Esquimalt.
In 1983, Morrison and seven of his companies were fined $6,000 in provincial court after being found guilty of 30 counts of failing to file income tax returns. Two years later, the disco closed for six days because of a liquor-licence suspension.
Of the complaints relating to Wharfside, 10 are outstanding. B.C.'s minister of labour said this week that an investigation into the complaints is underway. A ministry official said Friday that since this is an active investigation, "we cannot comment further in terms of an update."
Complaints are not findings of wrongdoing. Voluntary resolutions are often reached by the parties.
Complaints relating to businesses that Morrison has been part of include Merlin's Cabaret, with five complaints in 1996 and 1997, resulting in two fines of $500 each.
A voluntary resolution was reached in 1995 following a complaint connected to Scandal's Cabaret Ltd.
Another 16 complaints relate to 622537 B.C. Ltd., which also did business as Fusion and Sin.
A B.C. company registry document states that the company president is Maria-Jose Hernandez, Morrison's ex-wife.
cjwilson@timescolonist.com
We thought you might also be interested in..
Notice
: Undefined index: event in
/home/viccity/public_html/v2/content.php
on line
67