Sonar used in Juan de Fuca Strait, but marine mammals not harmed, navy says
Feb 11 2012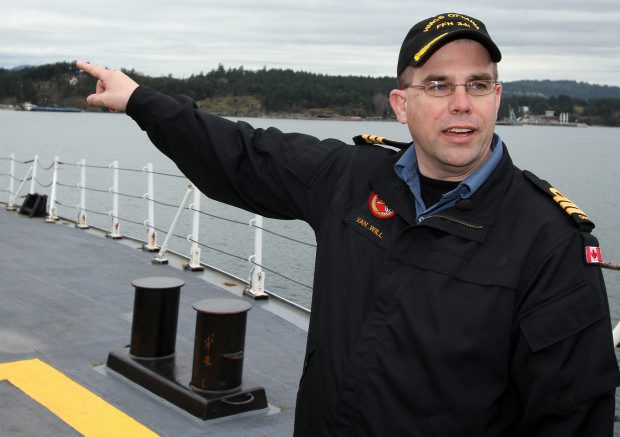 Cmdr. Scott Van Will, commanding officer of HMCS Ottawa, on board the vessel.
Photograph by:
Bruce Stotesbury, timescolonist.com
A Canadian Navy frigate used sonar in the enclosed waters of Juan de Fuca Strait this week, but marine mammals were not endangered, says the ship's commanding officer.
Cmdr. Scott Van Will, HMCS Ottawa CO, said checks ensured no marine mammals were in the area before low-frequency sonar was used as part of an anti-submarine warfare exercise.
"We have procedures in place. The marine mammal mitigation policy started in 2008 and that pretty much orders me to take some specific steps," Van Will said.
That includes visual and sound checks which pick up everything from whales to porpoises within a 3,660 metre range, he said.
"I have faith no marine mammals were in the area at that time."
But whale monitoring and environmental groups say sonar should never be used in the area designated by the U.S and Canada as critical habitat for endangered southern resident killer whales. The Natural Resources Defence Council is asking the U.S. federal government to talk to Canada about halting all naval sonar use in the Salish Sea.
"This is one area the U.S. navy has put off-limits," said Michael Jasny, NRDC senior policy analyst.
"They require special approval by the commander of the Pacific Fleet if any sonar is to be used in this area. If the U.S. can do that, why not the Canadian navy?"
Van Will said it is sometimes necessary to use sonar in enclosed waters.
"We need to be able to operate in all types of environment," he said.
"It enables the sailors to get the training required. We would be doing them a disservice if we always trained in deep water."
Also, sonar used by the Canadian navy is lower frequency than used by U.S. ships and does not travel so far, Van Will said.
This week the Federal Court of Appeal ruled that the government is legally bound to protect resident killer whale habitat and that could include controlling noise.
Any changes that flow from that decision will first be reviewed by Fisheries and Oceans and then decided by senior personnel, Van Will said.
Jasny said the rules are not nearly strict enough for an area like Juan de Fuca Strait, where sound is magnified.
Everyone wants to avoid another incident like the USS Shoup, which used sonar in the same area in 2003, he said.
"It caused a panic among the killer whales, driving them into shallow waters. . . It caused porpoises to evacuate the area en masse and a large minke whale was seen literally thrusting out of the water," he said.
"I understand the navy's need for flexibility, but we wouldn't put a firing range next to a school and this is the environmental equivalent of that," Jasny said.
Howard Garrett of Orca Network said unusual patterns of behaviour were seen among some resident killer whales several hours after the sonar was heard, but it is not known whether there was any link.
"I hate to raise speculation, but several K and L Pod whales went way into Discovery Bay (between Sequim and Port Townsend)," Garrett said.
"We haven't heard of them being there before."
The sonar was picked up shortly before 5 a.m. by a San Juan Island resident who helps monitor hydrophones for the Salish Sea Hydrophone Network.
"We stream them live on the Internet and that's what enabled some of our devoted listeners to pick up the pings," said coordinator Scott Veirs.
"It's a high-pitched chord and a complex set of tones. . . . This is quite unusual, but it has happened a few times over the last six years," he said.
Some of the exercise was conducted in U.S waters, which raises the question of why the Canadian navy is using sonar in the area, Veirs said.
jlavoie@timescolonist.com
We thought you might also be interested in..