Victoria police chief welcomes review on charging
Feb 12 2012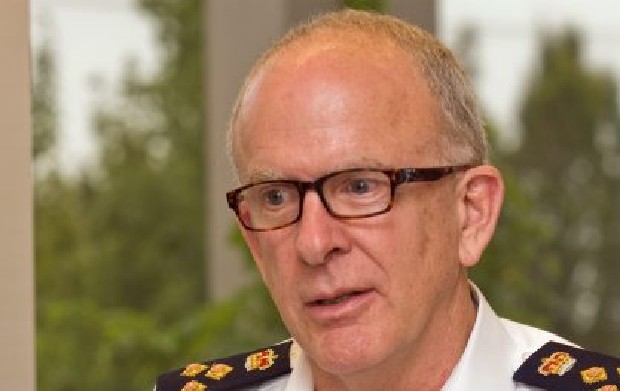 Chief Jamie Graham says B.C.'s mechanism for laying charges is flawed.
Photograph by:
Darren Stone, timescolonist.com
When Victoria police Chief Jamie Graham moved to North Vancouver from Alberta, he was amazed by what he calls B.C.'s cumbersome, frustrating and lengthy charge-approval process.
Today, the former RCMP officer, who charged people with criminal offences for more than 20 years, is thrilled that the government has asked former Alberta chief prosecutor Gary McCuaig to review whether police in B.C. should be able to charge people with criminal offences.
"The actual mechanism of getting charges laid in this province is flawed," Graham said last week. "I really welcome this review."
B.C., Quebec and New Brunswick have a Crown charge-approval process in which police submit a report to Crown and recommend charges. The Crown can proceed with charges, send a file back for further investigation or reject a file based on insufficient evidence. The Crown may also proceed with other charges, said Clayton Pecknold, assistant deputy minister of policing.
"That's completely within their prosecutorial discretion," said Pecknold. "They retain that discretion in jurisdictions where there is charge approval and where there isn't. In provinces like Alberta, where they don't have charge approval, Crown still has the ability to decide if they want to proceed with a charge or stay it."
The director of police services said he welcomes the independent review of B.C.'s charge approval process.
"It's critical. And rightfully, there will be a lively conversation on it and that's good," Pecknold said.
A request to the criminal justice branch to interview experts and for information on the issue, such as the percentage of stays and wrongful convictions in other jurisdictions across Canada, was refused "out of respect for the review process."
In Ontario, police investigate and lay charges where they have reasonable and probable grounds to believe an offence has been committed. They may seek legal advice on a particular case from the Crown.
B.C. has a filtering process that only gets certain cases before the court, Graham said.
"Crown charge approval requires a substantial likelihood of conviction. That means a 100 per cent chance of conviction or the case doesn't proceed. And good criminal cases are never 100 per cent. The standard has been taken to a level that's problematic for us."
Graham has proposed removing the word "substantial" from the charge approval process and allowing police to lay charges for summary offences, such as causing a disturbance or common assault.
"But that's unacceptable. Crown won't give that up," he said. "Our view is 'Go to court and let the judge decide,' " Graham said.
The chief dismissed the idea that officers, desperate to solve a case, may not look critically at big investigations.
"Every one of us has been on cases where we'd give a year's pay to solve a case. We live by a set of rules and we're ethical," Graham said. "And no one would argue that there's a requirement for tough scrutiny by Crown on major cases like homicides, robberies and complicated impaired driving cases."
Victoria lawyer Paul Pearson, co-chairman of the Victoria criminal justice section of the Canadian Bar Association, said he is concerned about police being able to approve charges.
"Police are good at doing their jobs, but they're not lawyers," Pearson said.
David Eby, executive director of the B.C. Civil Liberties Association, is also not in favour of police laying charges.
Criminal charges have a huge impact on a person's reputation and privacy, Eby said. Charges are entered into the B.C. Online system that employers and landlords use to check to see a person's involvement with the criminal justice system — even if the charge is later stayed.
"Even if no newspaper ever reports on it, or no media outlet covers it, it will always be on that database," Eby said. "It's a very serious thing to charge someone even if they are never convicted."
ldickson@timescolonist.com
rfshaw@timescolonist.com
We thought you might also be interested in..