Fraud complaint filed against restaurateur Duncan Morrison
Feb 12 2012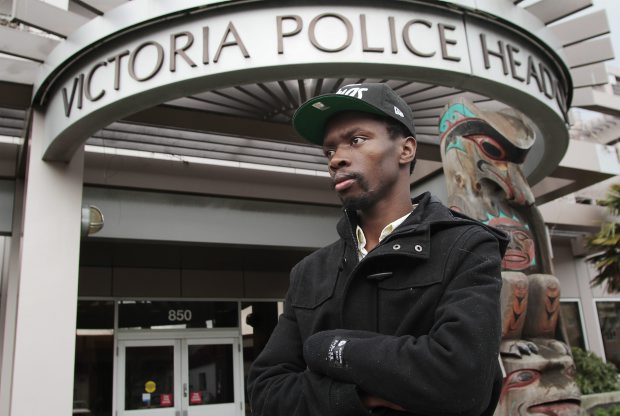 Former cook at Wharfside Seafood Grille Beric Ofori at the Victoria Police Headquarters after filing a complaint against former manager Duncan Morrison for unpaid wages. (Feb. 2012)
Photograph by:
Lyle Stafford, timescolonist.com
One of Duncan Morrison's former employees filed a fraud complaint with the Victoria Police Saturday, saying the restaurateur has not paid him or others for their work.
Beric Ofori took paperwork and documents to the police station. He said they support his claim that Morrison either didn't pay, or wrote cheques that bounced, for him and others at the Wharfside Seafood Grille.
Ofori said he feels the only recourse left is to ask the police to investigate, after trying various other agencies to try and deal with situation.
"It's very frustrating," said the 26-year-old line cook. "It's about time the little people have their rights too, not just the rich people."
Over the last 17 years, more than 110 complaints have gone to B.C.'s employment standards branch in connection with various companies involving Morrison in either ownership or management roles.
The latest are from the Wharfside Seafood Grille. Twenty complaints have been filed to B.C.'s employment standards branch from former staff who said they had not been paid for work they had done.
Of the complaints relating to Wharfside, 10 are outstanding and investigations into the complaints are underway.
"How can people just be allowed to do this?" said Ofori, who expects others will also go to the police.
Staff Sgt. Darren Laur said the complaint will be forwarded to the fraud division Monday for investigation.
A complaint does not mean a person will necessarily be charged.
kwestad@timescolonist.com
We thought you might also be interested in..