Missing, slain women honoured at annual Victoria march
Feb 13 2012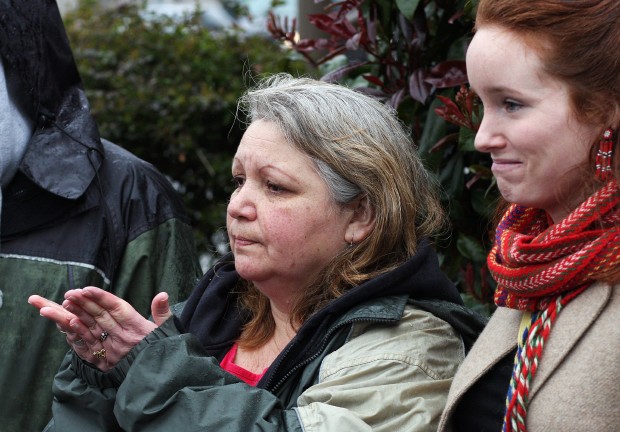 Cindy Simpson, left, mother of Ariana Simpson, and Sinead Charbonneau reflect during a ceremony at the corner of Quadra Street and Pandora Avenue on Sunday, Feb. 12, 2012. Ariana, 20, was killed on Feb. 12, 2009, when she was pushed under a bus nearby. The ceremony was held as part of the fourth annual Stolen Sisters memorial march for missing and murdered indigenous women.
Photograph by:
Adrian Lam, timescolonist.com
Cindy Simpson wiped tears as she stood in the misty rain at the corner of Pandora Avenue and Quadra Street on Sunday afternoon.
She and her husband, Michael, watched hundreds of people flood into the streets for the annual Stolen Sisters memorial march for missing and murdered indigenous women.
Three years ago to the day, Cindy and Michael's daughter, Ariana, was killed at that intersection when she was pushed into the street and run over by a transit bus.
Her story was one of many told during the procession that began at Our Place on Pandora, moved down to Government Street and ended at Thunderbird Park.
This was the fourth such march in Victoria, inspired by the Vancouver event that began more than 20 years ago. Organizers there began the march after a Coast Salish woman was murdered on Powell Street.
There are more than 580 missing and murdered indigenous women in Canada, according to estimates in a 2010 report from the Native Women's Association of Canada. Of those cases, 48 per cent of the homicides remained unsolved at the time the document was produced.
A jury found Christopher Groves guilty of manslaughter last year in connection to Ariana's death. He was sentenced to one year in prison and must complete 250 hours of community service.
Sunday's event is a way for Michael and Cindy to begin healing after the tragic loss of their daughter.
"It's important for us to mark this day," Cindy said. "It's been three years of pain and suffering. I'm ready now to start healing. So for me, this is the beginning of a different path."
Sinead Charbonneau is one of the organizers of the march and a friend of the Simpson family. Her eyes lit up as she spotted Cindy and Michael on the sidewalk.
Charbonneau raced toward them, draping them in hugs as she arrived. Everyone choked up, fighting back the tears.
The march was made up of members of First Nations from throughout Vancouver Island, as well as non-aboriginal supporters. Gathering to share their stories and support each other is an important part of healing, Charbonneau said.
"It's important because we often don't have a way to grieve, and I think coming together with all our different nations helps the communities grieve and remember the happy and sad times in our lives," she said.
Police at the event estimated about 200 or 300 people attended. Before the march began, the crowd surrounded a group of First Nation drummers. One of those drummers, Cliff Johnson, said he wants families and friends of missing or murdered women to know they have support.
"It's just as important as Valentine's Day or any other holiday," he said of the annual event. "It's to remember our brothers and sisters who are out there. It's in remembrance of them. They're gone, but they're not forgotten."
dspalding@timescolonist.com
We thought you might also be interested in..