Victoria's favourite local spots for love
Feb 14 2012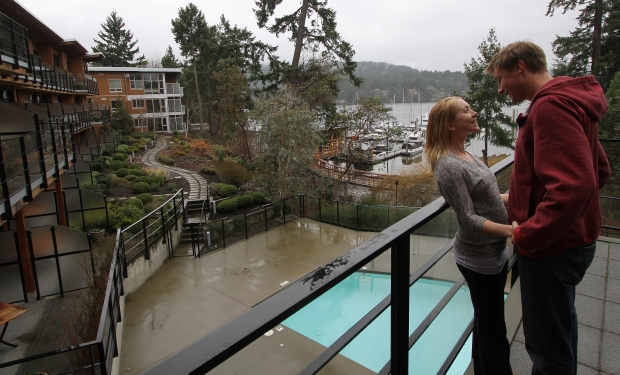 Brentwood Bay Resort: Antoine Foukal and Deanna Bekker enoy the view and each other's company
Photograph by:
Adrian Lam, timescolonist.com
Victoria is a city of romance, especially in the eyes of Times Colonist readers who responded to our request to tell us about their favourite romantic spots, on Valentine's Day and any other day.
Dallas Road and the Ogden Point breakwater are the most popular locations to be with that special someone.
"The magnificent breakwater is an absolutely exhilarating place to be when walking with someone you love," wrote Lorraine Holt.
"Then sitting on the beach or rocks and listening to the water rippling on the shore. On a windy day, [there's] nothing better than dodging the breakers as they send salt spraying over the top. I can't think of anything more romantic than that."
Close behind was Brentwood Bay Resort and Spa, for readers who enjoy rest and relaxation.
"The Brentwood Bay Resort is the most romantic, secluded spot," wrote Brenda Rode.
Beacon Inn at Sidney, Shirley's Point No Point Resort and Birds of a Feather B&B on Esquimalt Lagoon were also mentioned as nearby getaways.
Others preferred to be more active with their partners, suggesting a climb of Mount Douglas, Mount Finlayson or Mount Tolmie - or a stroll along Willows Beach.
The more urban-oriented said they enjoy sharing a nice meal in one of many fine local restaurants, including Il Terrazzo, Brasserie L'Ecole, Zanzibar, the Fairmont Empress Hotel's Bengal Lounge and Sidney's Beacon Landing Restaurant and Lounge.
Judy Loukras chose table 12 at Camille's Restaurant: "A corner booth-like setting where you can snuggle amongst the pillows and enjoy exquisite food and wine."
The urban landscape did the trick for a few others, who indicated Waddington Alley near Lucky Bar, and the Bay Centre fountain on Fort Street as places they like to spend time with loved ones.
Others thought outside the box.
"I think the most romantic place in Victoria is anywhere my parents, Ernie and Evelyn Bent, are," wrote Bev Smit. The Bents have been married for 55 years and have four children, as well as grandchildren and greatgrandchildren.
"Over the past several years my mother's health has declined, but not their love," she wrote.
"My father is right there to help in any way he can. He will quietly slip her hand into his as they walk, share a quick kiss or a smile that lights a twinkle in my mother's eyes. To lift her spirits he may tickle her nose to get her to laugh. When they walk into a room, their love embraces all within and you can't help but feel good."
asmart@timescolonist.com
We thought you might also be interested in..