Speed dating at Victoria library
Feb 14 2012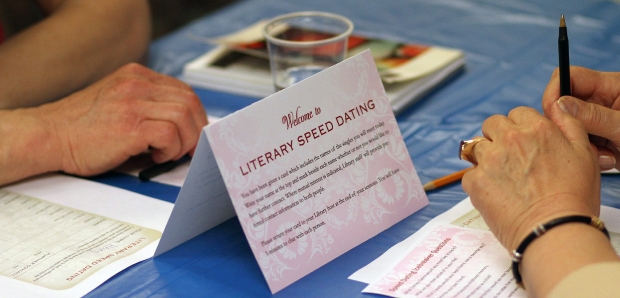 The Greater Victoria Public Library hosts its first round of literary speed-dating at the Central Library on February 11, 2012
Photograph by:
Adrian Lam, timescolonist.com
The air is charged with light-hearted tension, anticipation and curiosity as seniors file into the meeting room of the Central Library.
They're armed with their favourite books - a window into their interests and good ice-breaking material, for the five-minute conversations they'll share.
They wear red sweaters and red dresses and lipstick hues ranging from rosepetal pink to tropical fuchsia. They settle into seats across from one another arranged in a square and settle into small talk until a bell indicates that it's time to meet someone new.
It's the first round of literary speed-dating, hosted Saturday afternoon by the Greater Victoria Public Library, and this round caters to the 60-plus crowd. It's a concept borrowed from the Vancouver Public Library.
"Theirs was evidently a great success," said organizer Andrea Brimmell.
"We're always trying to think of new ways to get people into the library and we look at the library as a community gathering place."
Ten men and 18 women registered, although several appear to have chickened out.
"We joked that they were probably at the bar next door getting their courage up," said 66-year-old Raymond Welch.
The majority, if not all, are new to speed-dating.
They've come for several reasons. Some heard about literary speed-dating in the Times Colonist, through seniors' magazines, library postings or from friends and family.
"I presumed there'd be a literary crowd here," said another participant.
Welch said the concept appealed to him and he was interested to see how it would play out.
"I think this model with young people would go one way, but when you're older you don't have to be so guarded."
Sharon Pedersen didn't realize it was speed-dating until that morning - she'd written the library to ask why there weren't more programs for adults during the day and this activity was recommended. When she received the page of ice-breaking questions in advance, she decided to come anyway.
"I thought I'd be a big girl - what the heck," she said.
"I've been on my own for a while now; at first I was quite happy about that," said a 76-year-old divorcée, who has also tried online dating. "But after four or five years you go, oh, I think I'm missing something."
Though the library plans to hold more literary speed-dating events - one for the 25-to 40-year-olds tonight and another for 40-to 60year-olds in April - this was a rare opportunity for seniors. There aren't many chances for the over-60 crowd to meet new partners, participants said.
"There are none that I'm aware of," said Pedersen, who recently retired.
"The seniors centres themselves are pretty good places to meet," said one 76-year-old woman with a silver up-do.
"But there aren't enough of these kinds of things. It's hard to meet other people.
You don't want to go to bars and dances by yourself when you're this age."
"Thrifty's is supposed to be a good place," joked one 67-year-old woman. "I don't want to go looking, that feels demeaning somehow, but this felt different."
The mood after the last bell rings is cheerful and optimistic. Most arrived with low expectations, just looking for a fun way to meet new people: Mission accomplished.
Reconnecting with a potential match is an added bonus some will discover later. Each participant put a check mark next to the names of the people they'd be interested in meeting again - library staff will distribute contact information to mutual matches.
But mostly, it seems, it was a nice way to spend an afternoon. Following a successful run at the Vancouver library, several of the women formed a book club, according to Brimmell.
Attendees at Saturday's event expressed similar interests.
"I really don't expect to be dating out of this, it's more just to get to know new people," said Welch, who said he'd like to organize something similar, as director of the Victoria chapter of the Canadian Association for Retired Persons. And his curiosity about the social experiment was satisfied, he said.
"Would this be something traumatic? Would this be something exhilarating?" Welch said. "I found it exhilarating."
Literary speed-dating for 25-to 40-year-olds will be held tonight at the Juan de Fuca branch. Registration is required.
asmart@timescolonist.com
We thought you might also be interested in..
Notice
: Undefined index: event in
/home/viccity/public_html/v2/content.php
on line
67