Wanted: Spare smelt for one picky pelican in Metchosin
Feb 14 2012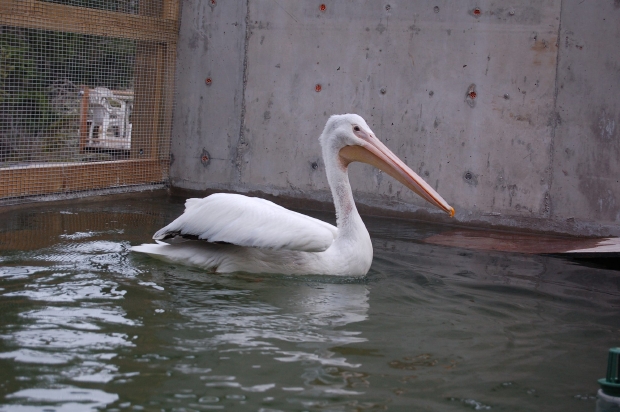 Pelly 26 at the B.C. SPCA's Wild Animal Rehabilitation Centre in Metchosin (February, 2012)
Photograph by:
Wild Animal Rehabilitation Centre, Handout
Pelly 26 has had a tough winter. But last week, after months of syringe feeding, the American white pelican started eating on her own.
There's only one problem, says Kari Marks, manager of B.C. SPCA's Wild Animal Rehabilitation Centre in Metchosin.
"She's a very picky eater."
The pelican, flown to Victoria from Manitoba where she was the only survivor from a group of white pelicans caught in freezing weather after failing to migrate south, has decided she will eat only smelt.
That is putting a strain on Wild ARC's smelt supplies, and Marks is hoping there are people in Victoria with extra smelt who would be willing to share with Pelly 26.
The white pelican, with a wingspan of almost two metres, arrived in Victoria Jan. 16 as Wildlife Haven in Manitoba did not have a large enough pool.
But her physical condition continued to deteriorate and she could not keep down food.
After treating her for several infections, ARC staff also tried to address her apparent loneliness.
"She was housed in a room with multiple mirrors, natural vegetation, flower essences were given several times a day and nature sounds were constantly playing to decrease her stress and make the setting feel more natural," said wildlife rehabilitator Christina Carrieres.
As Pelly 26 started to improve, she was syringe-fed about seven fish-shakes a day and was given a bath to remove fish oil from her feathers.
However, until her plumage is back to normal, she has to dry off with a special air dryer each time she goes in the pool, Carrieres said.
"She is becoming increasingly waterproof and she made her first dive into Wild ARC's new large pool on Feb. 7, and then spent the night under B.C.'s stars for the first time," she said.
The next day the bird ate some solid food and stood by a mirror, apparently in search of a companion, Carrieres said.
Now, the main task is ensuring the pelican has enough smelt, Marks said.
"If there is someone who has some smelt in their freezer that they would consider donating, we would be very appreciative," she said.
Other donated fish is being used to feed two otters at the centre.
Anyone who wants to donate can contact Wild ARC at 2504789453.
jlavoie@timescolonist.com
We thought you might also be interested in..