Alternative valentines in Victoria demonstrate love is a many-spendoured thing
Feb 14 2012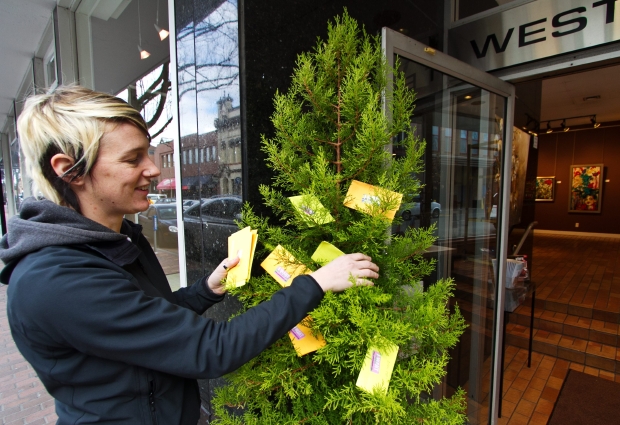 Quetzo Herejk of the Project Respect youth team from Victoria Women's Sexual Assault Centre drops off some of 2,000 alternative love letters distributed throughout the capital. (February, 2012)
Photograph by:
Darren Stone, timescolonist.com
If the love of your life is a green dinosaur, is your relationship less valid than the traditional boy/girl duo?
Not according to members of the Project Respect youth team from Victoria Women's Sexual Assault Centre, who have hidden alternative love letters around Victoria.
Today, stuck in coffee shop tables, wedged between seats on buses or artfully dropped in washroom stalls, there are 2,000 special valentines begging to be found, opened and reflected upon.
"They're orange and green and folded over and they say 'open me' on them," said Elicia Loiselle, co-ordinator of Project Respect, a youth sexual-violence-prevention program.
"The aim is to encourage people to think about love in a different way," Loiselle said.
That means challenging mass-marketed Valentine's Day ideas about chocolates, flowers and cards, she said.
"Instead, we're asking people to explore love as revolution by writing about how we can use love to create inclusive, supportive and non-violent communities.
"We're asking people to consider that love can be social justice," she said.
The "revolution letters" were written by people who dropped in at writing stations at the Solstice Café and the University of Victoria last week.
In addition to the originals hidden around town, they can be seen on the blog revolutionletters.wordpress. com.
Each letter links finders back to the blog so they can comment on where the note was found and how it affected them.
The letters are a mix of whimsy, artwork and heartfelt expressions.
On one, a line of pigs says, "I may not love bacon, but I sure love you."
Another writer says "loving freely and openly is one of the scariest things we can do because it makes us vulnerable."
Then there's the green dinosaur with the word balloon "RAWR."
That means "I love you," the card explains.
jlavoie@timescolonist.com
We thought you might also be interested in..