Central Saanich has no say on Tsawout overpass plans
Feb 15 2012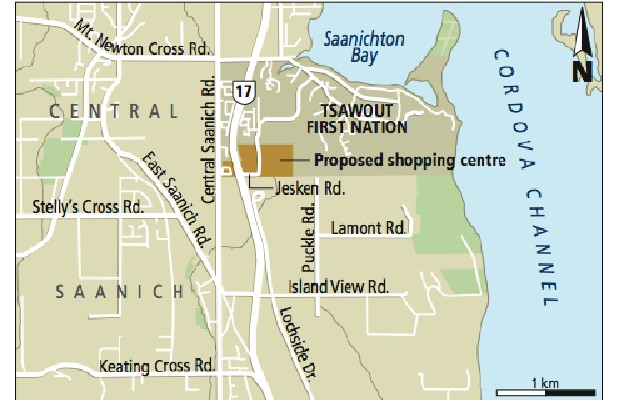 Map locates proposed shopping centre.
Photograph by:
., timescolonist.com
Central Saanich council is unhappy with the three locations suggested for an overpass that would provide access to a proposed shopping centre on Tsawout First Nations land, but their concerns won't derail the project.
All the options would put an overpass completely on Tsawout land, over which neighbouring Central Saanich has no say.
Central Saanich councillors say they are concerned that the overpass options don't address traffic concerns that have troubled the municipality for years.
Central Saanich has long lobbied for an overpass at Keating Cross Road. But that isn't among the three options being considered by B.C.'s Ministry of Transportation and Infrastructure, the Tsawout council, and Property Development Group, the company behind the shopping-centre plan.
The 650,000-square-foot shopping centre would be situated at Jesken Road and the Pat Bay Highway. To provide high-volume traffic access via the highway, an overpass is needed.
The three options presented to Central Saanich councillors are:
? An interchange at Jesken Road entirely on band land with no connections to Central Saanich Road.
? An interchange on band land but with at least two connections to Central Saanich Road. There would be no changes to the Island View or Mount Newton intersections with the Pat Bay Highway.
? The same as option two, but with the Island View traffic signal removed. The intersection would become a right-in/right-out heading south. Cross traffic moving east-west would be removed and a signal would be installed at the East Saanich Road intersection going south. Improvements would also be made to roads around Puckle Road. East-west traffic movements would be replaced by the Jesken interchange.
Option three is preferred by the Tsawout and the developer because the transportation ministry would likely provide some money for it, said Central Saanich administrator Gary Nason.
But that plan would provide little benefit to Central Saanich and the "negative implications for the district could be very significant," Mayor Alastair Bryson said.
Central Saanich councillors are seeking a meeting with transportation officials, the Tsawout council and the developer to come up with other options.
kwestad@timescolonist.com
We thought you might also be interested in..