Island First Nation's solar energy gives power back to the people
Feb 15 2012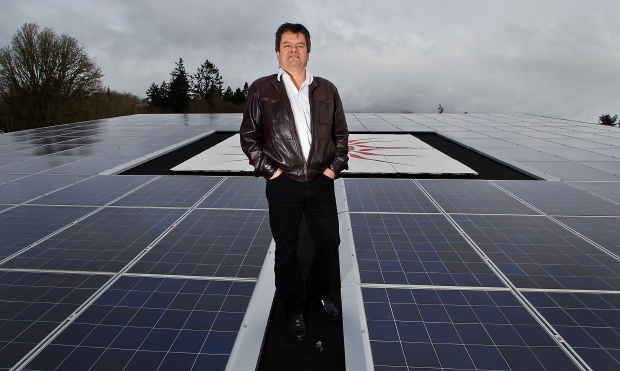 Chief Gordon Planes walks among banks of solar panels atop a building on the T'Sou-ke reserve in Sooke. Altogether, there are 400 solar panels in the ambitious three-year project that harnesses the sun in an effort to create a sustainable community.
Photograph by:
Darren Stone, Victoria Times Colonist, Feb. 14, 2012
There's an evangelistic gleam in Chief Gordon Planes's eyes as he climbs up a small ladder onto banks of solar panels overlooking the water where the Sooke River runs into Sooke Harbour.
The futuristic energy source, with a solar system twice the size of anything else in B.C, reflected in the timeless tide pools of the estuary, are a perfect metaphor for Planes's back-to-the-future agenda for T'Sou-ke First Nation.
"The whole territory used to be used in a way that was sustainable. We only took what we needed and we need to get back to that," he said.
Three years ago T'Sou-ke embarked on an ambitious plan to use solar power as the kickoff point for creating a sustainable community.
"It's a demonstration project. It shows these things are possible. You have to look at ways of being creative and educating everyone to try and fix what's wrong with Mother Earth," he said.
The plan is built around energy autonomy, food self-sufficiency, cultural renaissance and economic development.
The 400-panel solar system, with meters that run backward and forward as power is sold to B.C. Hydro in summer and bought in winter, means all administrative buildings feature "net zero" hydro consumption, said solar program manager Andrew Moore.
Solar panels to pre-heat water are installed on the roofs of almost half the 80 reserve houses and an ambitious conservation and education program is sending domestic hydro bills plummeting.
Band members are being trained in solar technology and some are now working on Colwood's solar program, while others are mentoring bands on remote reserves, especially those relying on diesel.
Among the unexpected spinoffs are tours of the solar project.
"We get coachloads of people coming for solar tours and then we give them a salmon feast and they exit through the gift shop," Moore said.
That means a flourishing catering business for some band members.
"And if you stand still for more than 10 minutes, you will get a table with crafts in front of you," Moore said.
Traditional crafts, ranging from drummaking to weaving and knitting, have been resurrected as part of the self-sufficiency plan.
"How many people could make their own clothes if the trucks from China stopped coming?" Moore said.
By late spring, the crafts will be available to a wider audience as the band takes over the church at the corner of Sooke and Lazzar roads and it is turned into the T'Sou-ke Arts Centre and Gift Shop.
The most ambitious new project is a planned 1.6-hectare commercial greenhouse, which the band plans to have running by next year, providing at least 40 permanent jobs.
"With the greenhouse, I think our social services department is going to have to close down," Planes said.
Last month T'sou-ke received $1 million from the provincial Innovative Clean Energy fund for the greenhouse and is now looking for a further $2 million in funding.
The greenhouse, which will grow veggies such as peppers and tomatoes, will use new heating and cooling technology that will reduce energy costs by up to 80 per cent, Moore said.
"It's very innovative. It's something that could be used by the whole greenhouse industry," he said.
Produce grown in the market garden, cleared from a patch of brambles, is already feeding band members and being sold at markets.
It is a passion for Christine George, who has overseen its growth. In addition to providing fresh food for community cooks, she is running jam-making and canning workshops.
"We have to reintroduce our people back to our traditional ways," she said.
"We need to encourage people to grow their own food."
George is taking young people on beach-gathering forays in which they eat what they gather - limpets, rock stickers and sea urchins - for the ultimate closeto-home diet.
"They do eat it because that's all we have with us for food," she said.
Out in the traditional territory, George is teaching band members about edible and non-edible plants, complete with flash cards in the Sencoten language.
In a warm shed at the market garden, Denise Routhier transplants marigold and tomato seedlings to larger pots in preparation for selling them at Seedy Saturday later this month.
The seeds and plants are proving popular, George said.
"Don't those marigolds look great," she said, proudly.
The market garden sales are an example of how businesses can flourish if they are given the right climate and support without the administration becoming an obstacle, Moore said.
"You hand it over to people."
jlavoie@timescolonist.com
- - -
Sustainability and solutions will be the theme of a First Nations renewable energy symposium at the University of Victoria this week.
T'Sou-ke First Nation is partnering with UVic's Office of Indigenous Affairs, B.C. Hydro and Fortis B.C. for the third annual "emPowering First Nations" symposium.
The two-day gathering, which will begin this evening with a feast, provided by T'Sou-ke Nation Catering, and a cultural celebration hosted by songwriter Art Napoleon, will look closely at sustainability work being pioneered by T'Sou-ke.
Other workshops and presentations include First Nations hydro projects, climate change adaptation and geothermal power.
The symposium will be held at UVic First Peoples House.
It is open to anyone interested in renewable energy and building sustainable communities.
For more information, email jtcarlso@uvic.ca.
We thought you might also be interested in..