Victoria police to replace aging motorcycle fleet
Feb 15 2012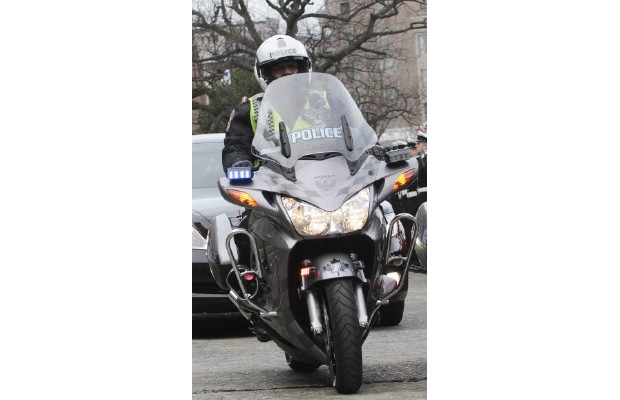 Victoria traffic police will soon trade their older Hondas for new rides. (Feb. 2012)
Photograph by:
Lyle Stafford, timescolonist.com
Victoria motorcycle cops are looking forward to 10 new sets of wheels.
The department has issued a tender for a fleet of motorcycles to replace its older Honda ST 1300cc models.
Over the past several months, Victoria officers have been researching different makes of bikes, putting them through their paces. Bids close Feb. 29.
"The police board just approved the purchase of all the new motorcycles now. We have been budgeting and saving for the replacements, so this isn't going to be a new budget item," Const. Mike Russell said Tuesday. Because the bids are competitive, no budget amount is being released, he said.
Various makes are used by police departments. Along with its Hondas, the city has used Harley Davidson bikes. The RCMP's local integrated road safety unit rides Harleys, while Saanich has several BMWs.
It's time to replace the fleet, which is used year round, Russell said. "We need to have our officers off of those, and the maintenance costs are really going to continue to rise as the condition of the motorcycles deteriorate," he said.
The department wants something "that's really quality built because these motorcycles have to last a long time," Russell said.
Features required include anti-lock braking systems and drop bars, which run along the side of the bike to take an impact. The bikes need a powerful battery system to operate police systems, such as radios and lights. A lot of storage is also necessary because the bikes function as offices on wheels.
Motorcycles must "perform well under very strenuous circumstances," Russell said, and they must be comfortable because officers can be riding for up to 10 hours a day.
City officers tried out Victory motorcycles in the summer when they were brought to Victoria for test runs. Victory will be submitting a bid with its Commander 1 purpose-built police bikes, Mike Schultz, sales manager, said from Tucson, Arizona.
Features include forged steel engine guards, floorboards that do not pivot upward in an accident, and steel saddlebag bars on the back to prevent bikes from tipping more than 34 degrees, he said.
While that company does not have dealer in Victoria, it will train local operators to work on its bikes, he said.
SG Power on Hillside Avenue will be bidding with Kawasaki Concours, said company vice-president Jeff Simpson. "It's all about safety and handling and longevity," he said.
The 1400cc bikes are "super reliable" and have a traction control system.
"You can press a button and the traction control makes the bike incredibly safe in rainy conditions or snowy conditions."
Kerry Wilk, owner of Action Motorcycles, will also be bidding. Details are still being worked out. Action won the contract to supply the force's Hondas.
cjwilson@timescolonist.com
We thought you might also be interested in..