City agrees to memorial for skateboarder
Feb 16 2012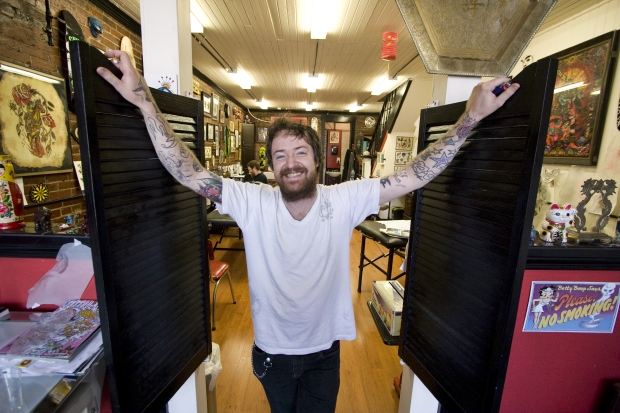 James (Jamer) Lindsay: The pioneering skateboarder died last month at age 38.
Photograph by:
Darren Stone, Victoria Times Colonist, Aug. 29, 2009
A memorial will be erected for skateboarder James (Jamer) Lindsay at the Vic West Skateboard Park.
City officials, who last week turned down a request for a memorial bench at the park, have agreed to have a skateable feature erected in Lindsay's memory.
"Staff are going to talk to the group about something that would be appropriate - an amenity or an addition for the skate park that they would raise the money for and we would get it installed," said Kate Friars, city director of parks and recreation. It could be a rail or some other feature, she said.
Shannon Ferguson, who has headed a fundraising campaign for a memorial bench, said a small group will meet this week with Lindsay's father, a visual artist, to discuss what type of structure might work best.
"Right now there are many different ideas being generated. As Jamer's father is an artist like his son was, the most prominent ideas seem to include a skateable artistic structure," Ferguson said in an email. "Some people have thought a cement bench, some people have thought to add lights to the park. The ideas are coming from everyone. The most important next step is to plan a meeting with the city."
Ferguson and others were dismayed last week when city officials turned down their request to erect a memorial bench for Lindsay, who had struggled with depression and died last month of an overdose. He was 38.
In turning down the bench request, city parks officials said it likely would be a high-maintenance item as people would skate on it and it would be subject to graffiti. They said the park could use a bench, but they would rather see it in the playground.
"We have a bench standard and we're concerned about maintenance levels, vandalism and graffiti," Friars said.
But Lindsay's friends who have been raising money for the bench found that ironic given that that their friend would have wanted the bench to be skated and tagged.
Ferguson said after an article appeared in the Times Colonist about the situation, she was inundated with offers of help.
Coun. Lisa Helps joined the call for a creative solution upon learning of the bench refusal. She is pleased a compromise is being worked out. "I love it because the city has an option that when someone dies you can get a memorial bench. But in this case it wasn't the right option. So they're working out a memorial rail at the skate park and I love that flexibility," Helps said. "I love that the initiative comes from the community and the city responds favourably."
Lindsay was one of the city's earliest street skaters. He was also a graffiti artist as a youth and became a tattoo artist.
bcleverley@timescolonist.com
We thought you might also be interested in..
Notice
: Undefined index: event in
/home/viccity/public_html/v2/content.php
on line
67